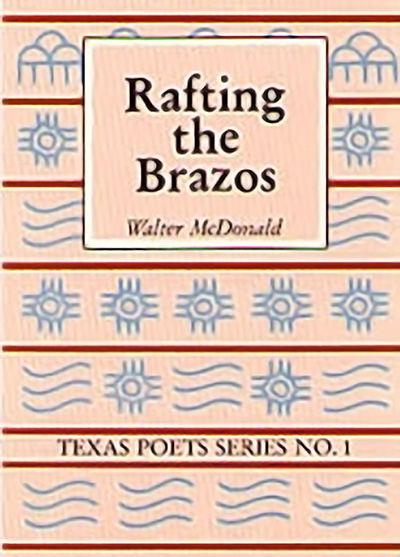 Rafting the Brazos
National Cowboy Hall of Fame Western Heritage Award for Poetry, 1989
About McDonald's Rafting the Brazos
Learning the Story of Scars
After the axe-head buried itself
in his ankle, my father clung to the log
he was splitting, squeezing his eyes
like fists. Twelve, he logged those woods
for years with his father—Arkansas,
the great depression, doing whatever they could.
Groaning, he jerked and jerked the axe
like a pump handle, he screamed
and went on pumping until the foot fell back,
hinged by the ankle, white and spurting.
With a bandana he held it and held it
while Arkansas flooded, and saw his father
running, his own axe raised ready to kill
whatever snake slashed the heel of his son.
I learned that scar like a tree
split by lightning, healed over,
knew my father had in him a boy
who had suffered alone in a forest.
"McDonald's evocation of nature and farming is impressively simple, but suggests mystery and depth." —Publisher's Weekly
"McDonald draws upon his personal vision of West Texas… offering a strong and sensitive image of the land, its people, its sense of space and struggle." —Books of the Southwest
"We are privy to a consciousness that encompasses Texas from the Gulf to the Caprock, from oxen-slow days to jet lag… Rafting the Brazos makes us wish the poet could… do nothing but chronicle the spirals of West Texas hawks." —Dallas Morning News
"West Texas, the land and its people, provide both the subject and the soul of McDonald's powerful poetry." —Writers at Work
About the Author
WALTER MCDONALD is Paul W. Horn Professor of English and Director of Creative Writing at Texas Tech University. His awards include three Western Heritage Awards,one for Rafting the Brazos; twice winner of an NEA Creative Writing Fellowship Grant; Juniper Prize; George Elliston Poetry Prize; three-time winner of the Texas Institute of Letters Poetry Prize; 1992 Texas Professor of the Year awarded by CASE in Washington, D.C.