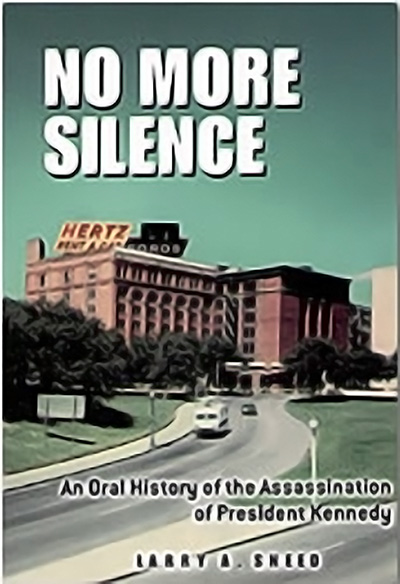 No More Silence: An Oral History of the Assassination of President Kennedy
69 b&w photos. Gloss. Index.
Features
About Sneed's No More Silence
No More Silence is the first oral history of the assassination of President John F. Kennedy, from eyewitness accounts through the police reactions, investigations, and aftermath. Based on in-depth interviews conducted in Dallas, it features narratives of forty-nine key eyewitnesses, police officers, deputy sheriffs, and government officials. Here—in many cases for the first time—participants are allowed to speak for themselves without interpretation, editing, or rewording to fit some preconceived speculation. Unlike the testimony given in the Warren Commission volumes, the contributors openly state their opinions regarding conspiracy and cover-ups.
Of particular interest are the fascinating stories from the Dallas Police Department—few of the policemen have come forward with their stories until now. No More Silence humanizes those involved in the events in Dallas in 1963 and includes photographs of the participants around the time of the assassination and as they appear today.
Was there a conspiracy in the assassination of President Kennedy? No More Silence gives readers the best perspective yet on the subject, allowing them to sift through the evidence and draw their own conclusions.
"Sneed accomplishes what has never been done before, which is to tell the story of the four days from the Dallas point of view… Sneed's contribution [is] a brilliant one… He presents every notable event as if through a prism, with each interviewee corroborating the basic facts but never exactly matching the other accounts, adding a detail here and there and at times even contradicting earlier ones. The result is a page-turner, not only because the story is dramatic but because the reader becomes eager to see how the next person saw it." —Max Holland, The Nation
"Sneed has done an outstanding job… [His] earnest quest for accuracy and fairness permeates the book… The author scored a major coup in getting Dallas law enforcement officials to talk openly about the tragedy." —Legacies
About the Author
LARRY A. SNEED was born and reared in Indiana. He holds a B.S. degree from Indiana State University and two graduate degrees from the University of Georgia. He has been a high school history teacher in the Newton and Gwinnett Public School Systems in Georgia for thirty years. No More Silence is his first published work. He and his wife Barbara live in Lawrenceville, Georgia.