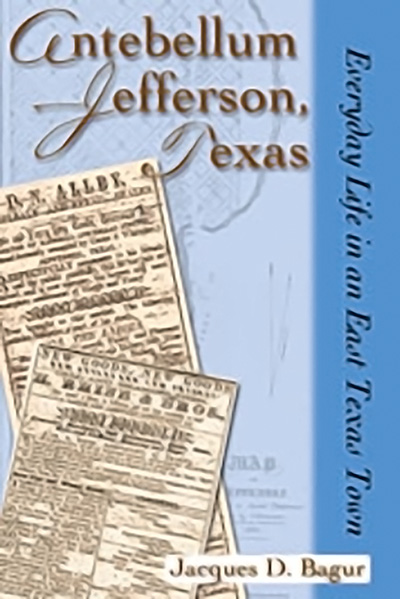 Antebellum Jefferson, Texas: Everyday Life in an East Texas Town
92 illus. Bib essay. Index.
Features
About Bagur's Antebellum Jefferson, Texas
Founded in 1845 as a steamboat port at the entryway to western markets from the Red River, Jefferson was a thriving center of trade until the steamboat traffic dried up in the 1870s. During its heyday, the town monopolized the shipping of cotton from all points west for 150 miles. Jefferson was the unofficial capital of East Texas, but it was also typical of boom towns in general.
For this topical examination of a frontier town, Bagur draws from many government documents, but also from newspaper ads and plats. These sources provide intimate details of the lives of the early citizens of Jefferson, Texas. Their story is of interest to both local and state historians as well as to the many readers interested in capturing the flavor of life in old-time East Texas.
"Astoundingly complete and a model for local history research, with appeal far beyond readers who have specific interests in Jefferson." —Fred Tarpley, author of Jefferson: Riverport to the Southwest
"This will be 'the book of record' for antebellum Jefferson. No work in the past comes close to the massive detail in this study." —James Smallwood, emeritus professor of history, Oklahoma State University