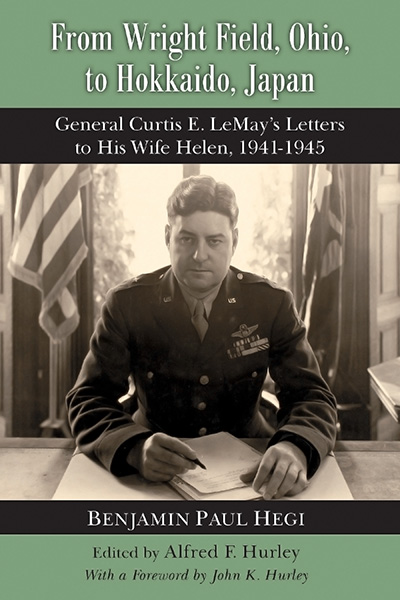 From Wright Field, Ohio, to Hokkaido, Japan General Curtis E. LeMay's Letters to His Wife Helen, 1941–1945
Contributors: Foreword by John K. Hurley
5 b&w illus. Notes. Bib. Index.
Features
About Hegi and Hurley's From Wright Field, Ohio, to Hokkaido, Japan General Curtis E. LeMay's Letters to His Wife Helen, 1941–1945
In 1942, Colonel Curtis E. LeMay and his 305th Bomb Group left Syracuse, New York, bound for England, where they joined the Eighth Air Force and Royal Air Force in war against Germany and her allies. Over the next three years LeMay led American air forces in Europe, India, China, and the Pacific against the Axis powers. His efforts yielded advancement through the chain of command to the rank of Major General in command of the XXIst Bomber Command, the most effective strategic bombing force of the war.
LeMay's activities in World War II are well-documented, but his personal history is less thoroughly recorded. Throughout the war he wrote hundreds of letters to his wife, Helen, and daughter, Jane. They are published for the first time in this volume, weaved together with meticulously researched narrative essays buttressed by both official and unofficial sources and supplemented with extensive footnotes. History remembers "LeMay, the Commander" well. From Wright Field, Ohio, to Hokkaido, Japan, will yield a better understanding of "LeMay, the Man."
About the Author
BEN HEGI earned a B.A. (History/English) from Texas A&M University and M.A. (History) from the University of North Texas.
About the Editor
ALFRED F. HURLEY, Brigadier General, USAF, was President/Chancellor/Professor Emeritus of the University of North Texas. He earned a B.A. (History) from St. John's University, and M.A./Ph.D. (History) from Princeton University.