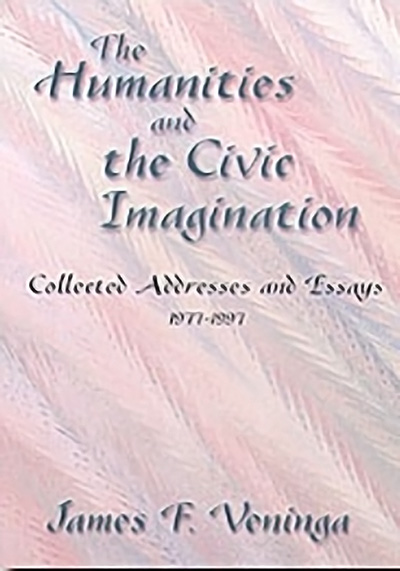 The Humanities and the Civic Imagination: Collected Addresses and Essays, 1977-1997
About Veninga's The Humanities and the Civic Imagination
For those who believe that the humanities in America are in trouble, suffering from over-specialization and never-ending intramural conflicts, this collection of addresses and essays provides much needed hope.
Since the early 1970s, state humanities councils, working under a Congressional mandate, have developed important models of how the study of history, literature, and culture can be infused into the public life of the nation. Often countering trends that have dominated the humanities on campus, state councils, drawing upon the energies and resources of volunteer boards, professional staff, and public-minded scholars, have demonstrated through thousands of public programs—documentary films, conferences, readings and discussions, public issues forums, interpretive exhibits, oral histories, lectures, discussions, and workshops—that the humanities retain the capacity to help foster a communal vision that can revitalize the public life of the nation.
"Jim Veninga has given us an important collection of essays that helps us understand why the humanities matter. In a voice not unlike Whitman's, Veninga shines as a tribune of democracy; and like the poet, he respects the power of ideas and imagination, welcoming everyone to the table. Long seen by his colleagues in the country as one of the leaders of the modern 'public humanities movement'… Veninga is one of our most creative visionaries. At a time when the humanities seem so much in retreat and under fire, Veninga tells us that never have the humanities been more vigorous, more alive and insightful, and more needed." —Jamil Zainaldin, President, Georgia Humanities Council; Past President, Federation of State Humanities Councils
"This noteworthy volume is a testimonial to the vitality of a democratic ideal… Jim Veninga has dedicated his professional career to the proposition that such fields of inquiry as history, literature, and philosophy are fundamental to the survival of popular government and his Humanities and the Civic Imagination eloquently documents that nexus as it has emerged at the end of the twentieth century." —Douglas W. Foard, Executive Secretary
Phi Beta Kappa, Washington, D.C.
"Jim Veninga's bird's-eye view of the successes and challenges of humanities programs in Texas is a fascinating lesson in civic imagination and action. Although this 25-year history of the activities of the Texas Council for the Humanities could easily trigger a sense of frustration and even despair, shining brilliantly throughout this volume is the tenacity and enormous creativity of those who, like Jim Veninga, have committed their lives to ensuring that such efforts persist." —Diana Natalicio, President
About the Author
JAMES F. VENINGA was Executive Director of the Texas Council for the Humanities, a state partner of the National Endowment for the Humanities, from 1975 to 1997. He is currently president of the Institute for the Humanities at Salado, Texas, where he lives. He holds a B.A. degree from Baylor University, an M.T.S. degree from Harvard Divinity School, and a Ph.D. from Rice University. He has edited or co-edited four other books.