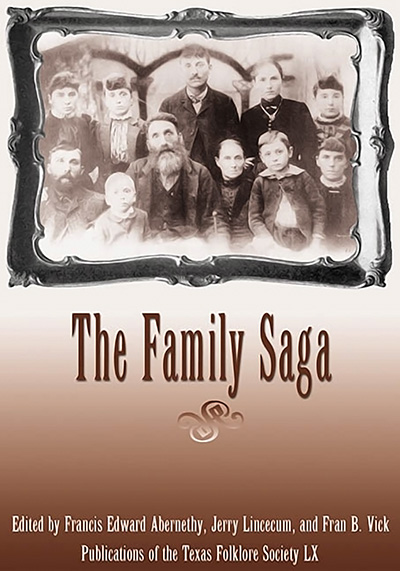 The Family Saga: A Collection of Texas Family Legends
105 illus. Index.
Features
Recommended Text
Ideal for Classrooms
About Abernethy et al.'s The Family Saga
The Family Saga: A Collection of Texas Family Legends is now available as a free e-book at the UNT Digital Library and The Portal to Texas History.
The title and the idea for this book began in 1958, when Mody Boatright first published his essay, "The Family Saga as a Form of Folklore." What Mody identified was a long established form of folklore that was firmly entrenched among people everywhere.
The family saga—as Mody and this collection defines it—is made up of an accumulation of separate family legends. These are the stories of the old folks and the old times that are told among the family when they gather for funerals or Thanksgiving dinner. These are the "remember-when" stories the family tells about the time when the grownups were children.
Families with strong identities and strong bonds eventually have a library of legends, treasures passed along in the oral tradition. Because of shared humanity and common family experiences, the legends of these old families follow a recognizable pattern of topics, some of which are contained herein. A large and chronologically extended collection of family legends brought together under one cover—or one roof—is a family saga.
Included here are stories grouped by common topics, such as Ghosts and the Supernatural, Feuding and Fighting, and Death and Burial. They include tales from favorite storytellers Elmer Kelton, James Ward Lee, Robert Flynn, Archie McDonald, and John Graves. Lavishly illustrated, this volume is a fitting tribute to F. E. Abernethy's dedication to the Texas Folklore Society.
From the book:
"One of Papa's maternal aunts, long before he was born, had married a thoroughly disreputable, shotgun-assassin, mean-poor-white type known as 'Mule' McGill. Her family and its connections were so disgruntled by the match that they stopped even talking about her, and my father as a child never heard her name and knew nothing of her existence." —John Graves
"I used to enjoy watching my father dicker with an old Midland horse trader named Big Boy Whatley. Dad enjoyed the challenge of trading with Big Boy. If you washed out even with Big Boy, you were in the big leagues." —Elmer Kelton
Classroom Adoption
The Family Saga: A Collection of Texas Family Legends is a recommended text for use in classrooms where the following subjects are being studied: Cultural Studies and Folklore.
When families gather and tell their stories, they are passing down the "family saga" to the next generation. Herein are stories of feuds, oddball family members, wartime experiences, and significant life events, sure to stimulate all families to remember and share their stories. A Publication of the Texas Folklore Society.
Adopted By
["Florida Atlantic University for "Family Folklore""]
About the Editor
FRANCIS EDWARD ABERNETHY was Regents Professor Emeritus of English at Stephen F. Austin State University, the executive secretary and editor of the Texas Folklore Society, the curator of exhibits for the East Texas Historical Association, and a member of the Texas Institute of Letters. In addition to editing twenty-one Texas Folklore Society publications, he wrote Singin' Texas, Legends of Texas' Heroic Age, and all three volumes of the Texas Folklore Society history, published by the University of North Texas Press.
More from Francis Edward Abernethy
JERRY BRYAN LINCECUM is Shoap Professor of English at Austin College and the author of Gideon Lincecum's Sword, published by UNT Press.
More from Jerry Bryan Lincecum
FRANCES BRANNEN VICK is retired director of the University of North Texas Press. In retirement, she has co-authored Petra's Legacy, winner of the Coral Horton Tullis Award for the best book on Texas history and Letters to Alice: Birth of the Kleberg–King Ranch Dynasty; and edited Literary Dallas. She is past president of the Texas Institute of Letters, Texas State Historical Association, The Philosophical Society of Texas, and is a Fellow of the Texas Folklore Society and the Texas State Historical Association. She lives in Dallas.