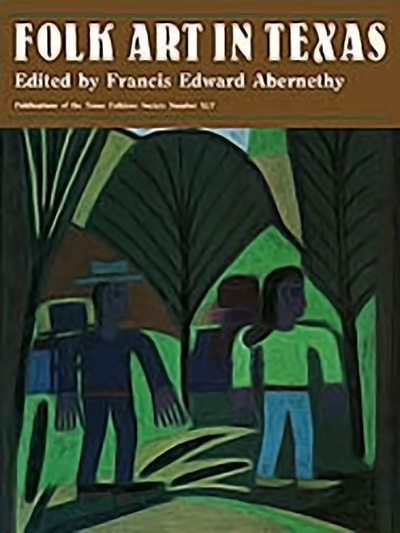 Folk Art in Texas
Contributors: Contributors include F. E. Abernethy, Joseph F. Lomax, Ernestine Sewell and Charles Linck, John O. West, Alan Govenar, Byron Price, Lawrence Clayton, Diane Corbin, Howard Peacock, Cecilia Steinfeldt, among many others.
40 color photos. 172 b&w photos. 33 illus. Index.
Features
About Abernethy's Folk Art in Texas
Folk Art in Texas is now available as a free e-book at the UNT Digital Library and The Portal to Texas History.
This coffee-table size book includes essays on yard art, rural mailboxes, folk grave decoration, folk art in Texas cemeteries, El Paso murals, art of the low riders, tattooing, art of spurs, textile artists, art of the cowboy hat, art of saddlemaking, quiltmaking, Indian pine-needle baskets, whittling, the folk art of Johnny Banks, Eddie Arning, Peter Paul Drgac, among many other pieces.
About the Editor
FRANCIS EDWARD ABERNETHY was Regents Professor Emeritus of English at Stephen F. Austin State University, the executive secretary and editor of the Texas Folklore Society, the curator of exhibits for the East Texas Historical Association, and a member of the Texas Institute of Letters. In addition to editing twenty-one Texas Folklore Society publications, he wrote Singin' Texas, Legends of Texas' Heroic Age, and all three volumes of the Texas Folklore Society history, published by the University of North Texas Press.