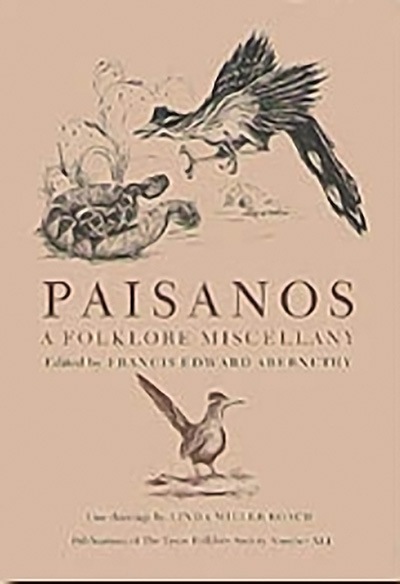 Paisanos: A Folklore Miscellany
36 b&w photos. 26 illus.
Features
About Abernethy's Paisanos
Paisanos: A Folklore Miscellany is now available as a free e-book at the UNT Digital Library and The Portal to Texas History.
The paisano, or roadrunner, is the emblem of the Texas Folklore Society chosen by the membership at the meeting held April 22, 1932, presided over by Jovita González. This volume is liberally sprinkled with pictures of that fine bird, and it is written by paisanos, fellow countrymen in the realm of folklore. From the paisano's cactus corral by J. Frank Dobie to John Neal Phillips' exploration of the Anasazi; from Bill Brett's planting by the moon to the names of newspapers by C. Richard King; from Lawrence Clayton's fact and fiction in Lomax outlaw songs to home and farm remedies and charms in a German manuscript by Christine Boot; from a look at Sunday cock fights by F. E. Abernethy to the pet rock in American folklore by Olivia Murray Nichols, this miscellany shows the diversity of Texas folklore.
About the Editor
FRANCIS EDWARD ABERNETHY was Regents Professor Emeritus of English at Stephen F. Austin State University, the executive secretary and editor of the Texas Folklore Society, the curator of exhibits for the East Texas Historical Association, and a member of the Texas Institute of Letters. In addition to editing twenty-one Texas Folklore Society publications, he wrote Singin' Texas, Legends of Texas' Heroic Age, and all three volumes of the Texas Folklore Society history, published by the University of North Texas Press.