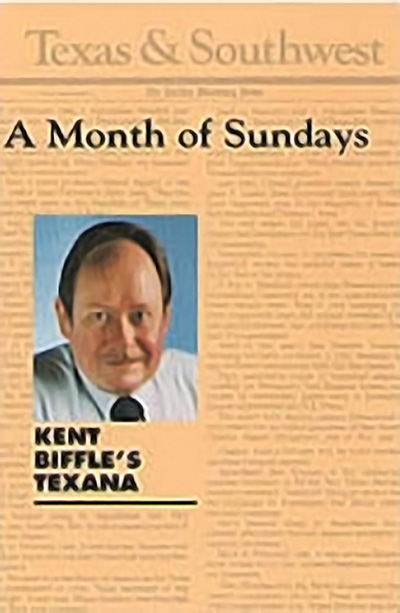 About Biffle's A Month of Sundays
"Those who have the slightest interest in Texas history, especially the more personal side of it, and most especially in the peccadilloes… of its more colorful characters, will derive great pleasure from Biffle's work. One turns the pages with constant delight at the information presented and the author's clever turns of phrase." —Darwin Payne, Legacies
"The book is rich in Texas humor, history and hijinks." —Mike Cochran, Associated Press
Columnist for the Dallas Morning News, Kent Biffle claims he has "the best job in the world." His Sunday column, Kent Biffle's Texana, takes him across the state in search of the unique, the picturesque, the bizarre.
A Month of Sundays offers a sampling of these treasures from the heart of Texas. The Texana afficionado will meet here the men and women who have helped to define the Texas spirit—from the early politicians to the suffragists, from outlaws to lawmen, from witches to cowboys. Biffle's columns offer a personal, witty, and humorous perspective of Texas history, heritage and folklore.
About the Author
KENT BIFFLE is a long-time columnist for the Dallas Morning News. He has received awards from the Associated Press, United Press International, the Society of Professional Journalists, Sigma Delta Chi, and the Southwest Journalists Forum. He is a Distinguished Alumnus of East Texas State University.