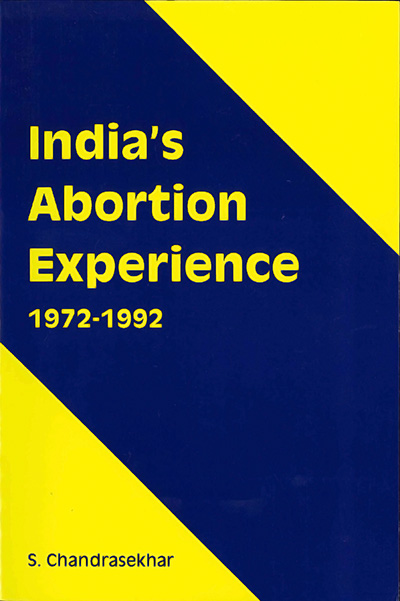 India's Abortion Experience, 1972-1992
September, 1994
Published
Tables. Index. Bib.
Features
About Chandrasekhar's India's Abortion Experience, 1972-1992
"[The book] gives a highly detailed account of the 1971 abortion reform… [T]here is a brilliantly lucid exposition of different religious views on abortion and their evolution through time; then the current position in other major countries is illustrated with well-chosen statistical tables. [This is] a most fascinating and useful book." —The Times Literary Supplement, concerning the first edition, Abortion in a Crowded World
"For many years those of us in the Western world who are interested in population problems have been beholden to S. Chandrasekhar for insight into the fascinating problems of the largest nation for which we have firm demographic knowledge. [India's] basic population problems may be said to be universal, but custom creates many special variants. By the comparative study of those variants we can hope to arrive closer to those truths we need to know to make possible man's survival in dignity,"—Garrett Hardin, University of California, Santa Barbara
The reissue and updating of this book, originally designed to make a case for the liberalization of the law then in force in India, was undertaken to review how the Act was implemented and to explore how such an act can affect poor women of the Third World countries.
India's story is important when viewed against the quasi-violent attitude3s and activities of populations considerably more literate, "educated", and sophisticated than that of India, on the subject of what are popularly called the "abortion wars" of the United States and Europe.
About the Author
SRIPATI CHANDRASEKHAR, an internationally renowned demographer and family planning specialist, designed India's population policy and was in charge of organizing the world's largest official family planning program during the time he was Minister of Health and Family Planning for Madam Indira Gandhi's administration. Dr. Chandrasekhar received his training from the Madras Presidency College, the University of Madras, Columbia and New York Universities, and the London School of Economics. Formerly Vice-Chancellor and President of Annamalai University in India, he recently served as Visiting Distinguished Professor of Demography.