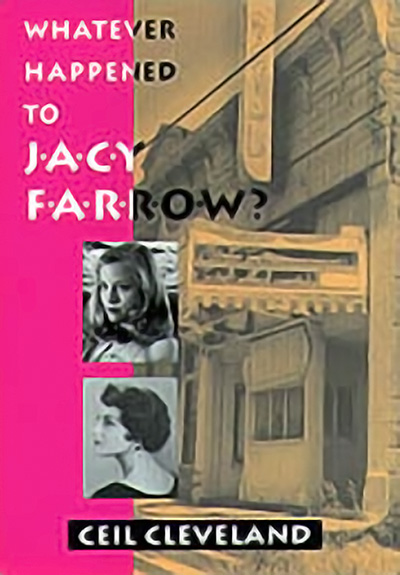 Whatever Happened to Jacy Farrow?
About Cleveland's Whatever Happened to Jacy Farrow?
"Ceil Cleveland has written a lively, vivid, and evocative book about how it was to be a young woman within the era and the aura of The Last Picture Show; it is a book which will resonate strongly with many readers who were young in that time." —Larry McMurtry
"A brilliant memoir in the tradition of Jill Ker Conway's The Road from Coorain, exploring the specificity of her own situation with an imagination so strong that readers are invited to make vital connections to their own experience." —Elaine Maimon, Provost and Professor of Literature at Arizona State University West
"Her descriptions… are evocative… Eventually coming full circle to give the commencement address at her old high school, 'Jacy' can look back with pride on the women who shaped her life, and perhaps shape a few lives in setting the record straight." —Publishers Weekly
Ceil Cleveland and Larry McMurtry grew up as friends in the little Texas town of Archer City, fictionalized by McMurtry in The Last Picture Show, which later became a film by Peter Bogdanovich. Among the locals, Cleveland has long been assumed to be the principal model for the novel's iconic character, Jacy Farrow—played in the movie by Cybill Shepherd.
"Archer City/Thalia is my home… Steeped in that culture, both the real and the literary, I share with McMurtry its history and social memories… In modern American literature, especially Texas literature, Jacy has become an archetype: a beautiful, flirty, teasing, bitchy, blonde in a convertible… Now this Jacy wants to tell her story… my story. It was long ago, it was not true, or only half true… or only true in the minds of the fanners of the flame of local rumor that I am remotely suggestive of the character called Jacy created by my childhood friend… So who was Jacy Farrow? Whatever happened to her?"
"The boys' world in Thalia—the legitimate one of football, rodeos, learning to cuss, and dreaming about girls—was the world of Texas in that era. Girls had bit parts. We could play if we learned our lines and attempted no ad lib. Some of us were cheerleaders, jumping, squealing, shaking our hips and pom-poms, the rewards of the boys on the field after the game was over… I projected myself into every picture show I saw. I was there—learning to act, to walk, to dress, to speak, to attract or dismiss men… I had no other way of forecasting my future."
About the Author
A fifth-generation Texan, daughter of pioneer ranchers and teachers, CEIL CLEVELAND has taught at several universities, and currently serves as Vice President for University Affairs of the State University of New York at Stony Brook. She lives on the North Shore of Long Island with her husband.