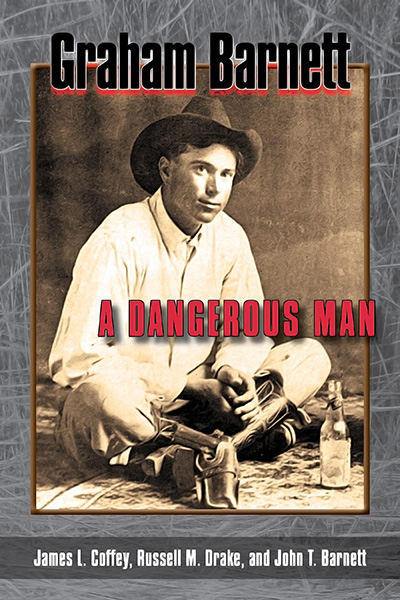 Graham Barnett: A Dangerous Man
17 b&w illus. Map. Notes. Bib. Index.
Features
About Coffey et al.'s Graham Barnett
Graham Barnett was killed in Rankin, Texas, on December 6, 1931. His death brought an end to a storied career, but not an end to the legends that claimed he was a gunman, a hired pistolero on both sides of the border, a Texas Ranger known for questionable shootings in Company B under Captain Fox, a deputy sheriff, a bootlegger, and a possible "fixer" for both law enforcement and outlaw organizations. In real life he was a good cowboy, who provided for his family the best way he could, and who did so by slipping seamlessly between the law enforcement community and the world of illegal liquor traffickers. Stories say he killed unnumbered men on the border, but he stood trial only twice and was acquitted both times.
Barnett lived in the twentieth century but carried with him many of the attitudes of old frontier Texas. Among those beliefs was that if there were problems, a man dealt with them directly and forcefully—with a gun. His penchant to settle a score with gunplay brought him into confrontation with Sheriff W. C. Fowler, a former friend, who shot Barnett with the latter's own submachine gun on loan. One contemporary summed it up best: "Officers in West Texas got the best sleep they had had in twenty years that Sunday night after Fowler killed Graham."
"This is one hell of a story, an account of a notorious gunfighter in the mold of the most legendary 'anti-heroes' of the American Southwest." —Michael L. Collins, author of Texas Devils
About the Authors
JAMES L. COFFEY is a former education consultant who worked with school districts in West Texas and lives in San Angelo, Texas.
RUSSELL M. DRAKE is a newspaper man who worked in Texas and California and lives in Veribest, Texas.
JOHN T. BARNETT is Graham Barnett's grandson and lives in southern California.