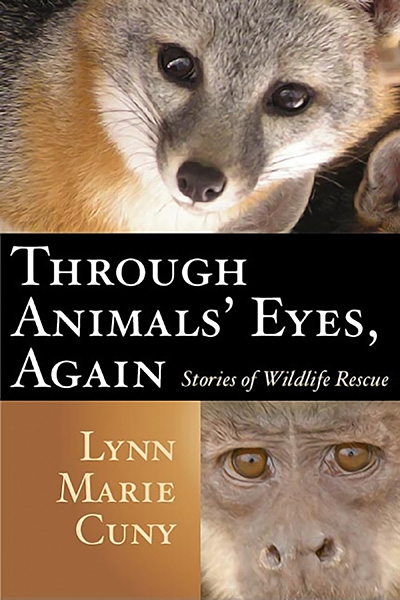 Through Animals' Eyes, Again: Stories of Wildlife Rescue
About Cuny's Through Animals' Eyes, Again
From the author of Through Animals' Eyes come more true stories from the rare perspective of someone who not only cares for the animals she treats, but also has never wanted nor tried to tame or change them. Lynn Cuny founded Wildl
Lynn's stories cover the humorous and the tragic, the surprising and the inevitable. The animals she describes range from the orphaned baby Rhesus monkey who found a new mother in an old monkey rescued from a lab, to the brave red-tailed hawk who was illegally shot, but healed to soar again. The stories will touch your heart and help you see "through animals' eyes."
"These true accounts, as amazing as some of them are with their unlikely bondings (a porcupine and a rabbit, a duck and a cat) will captivate, fascinate, educate, and often move you deeply. It's an inspiring read for animal advocates and a must-read for those who have not been exposed to the beautiful experiences of the animal-animal bond." —Loretta Swit, actress
"Even a veteran worker in the humane environment will be awed and inspired by Lynn Cuny's experiences. At the same time, her writing style makes every true story a little gem." —Earl Holliman, actor
Of Related Interest:
Through Animals' Eyes 1-57441-130-6 paper $10.95
When Raccoons Fall through Your Ceiling 1-57441-154-3 cloth $21.95
About the Author
LYNN MARIE CUNY is the author of Through Animals' Eyes: True Stories from a Wildlife Sanctuary from UNT Press. She is a native of San Antonio.
LYNN CUNY, Executive Director of WRR, began her rescue work at the age of three by saving the lives of earthworms after a hard rain. She serves on the boards of the Summerlee Foundation and the Ahimsa Foundation and lives outside of San Antonio.