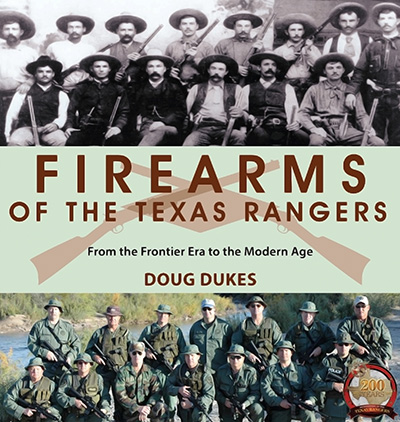 Firearms of the Texas Rangers: From the Frontier Era to the Modern Age
182 b&w illus. Notes. Bib. Index.
Features
About Dukes's Firearms of the Texas Rangers
From their founding in the 1820s up to the modern age, the Texas Rangers have shown the ability to adapt and survive. Part of that survival depended on their use of firearms. The evolving technology of these weapons often determined the effectiveness of these early-day Rangers. John Coffee "Jack" Hays and Samuel Walker would leave their mark on the Rangers by incorporating new technology which allowed them to alter tactics when confronting their adversaries. The Frontier Battalion was created at about the same time as the Colt Peacemaker and the Winchester 73—these were the guns that "won the West."
Firearms of the Texas Rangers, with more than 180 photographs, tells the history of the Texas Rangers primarily through the use of their firearms. Author Doug Dukes narrates famous episodes in Ranger history, including Jack Hays and the Paterson, the Walker Colt, the McCulloch Colt Revolver (smuggled through the Union blockade during the Civil War), and the Frontier Battalion and their use of the Colt Peacemaker and Winchester and Sharps carbines. Readers will delight in learning of Frank Hamer's marksmanship with his Colt Single Action Army and his Remington, along with Captain J.W. McCormick and his two .45 Colt pistols, complete with photos.
Whether it was a Ranger in 1844 with his Paterson on patrol for Indians north of San Antonio, or a Ranger in 2016 with his LaRue 7.62 rifle working the Rio Grande looking for smugglers and terrorists, the technology may have changed, but the gritty job of the Rangers has not.
About the Author
DOUG DUKES, a native Texan, retired after a lengthy law enforcement career with the Austin Police Department. He has written articles for Wild West History Association Journal, Wild West, and True West magazines, and also the Texas Ranger Hall of Fame and Museum's online chronicle, The Texas Ranger Dispatch. He lives near Liberty Hill, Texas.