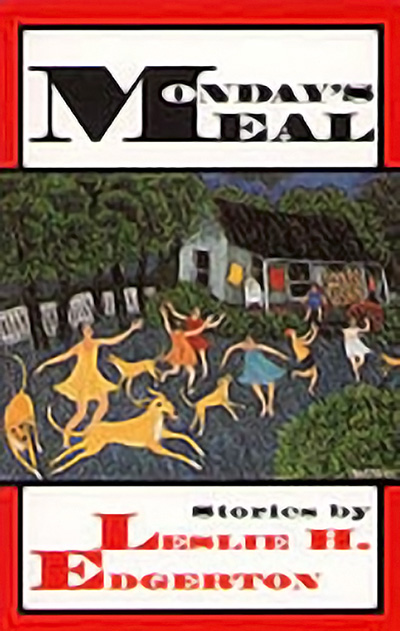 About Edgerton's Monday's Meal
In these stories, Les Edgerton has carved out a literary turf in the bars of New Orleans and the small towns of Texas, in the gullibility of tourists carrying their go-cups on the streets of the Big Easy, in the gaping seams between bars in the Pendleton Reformatory of Indiana, in the poverty of the hill people in the South, in the difficulties of love and sex and what keeps pulling man and woman in each other's direction. The author has a wonderfully poignant way of dealing with people often called losers, and his affection for his characters is what gives his writing a luminosity that is ultimately the strength of these stories.
Some of these stories have first appeared in Aaethlon, North Atlantic Review, Innisfree and South Carolina Review.
"He was so mean that wherever he was standing became the bad part of town. At that moment, the bad part was State Street just past Maplecrest, in the Georgetown Shopping Plaza. Behind it, actually, back by the dumpsters behind the Cap 'N Cork. Into one of which he was stuffing the body of his wife. He wished she had bled more. She would have weighed less, he figured." —–from "The Bad Part of Town"
"Those who enjoy reading Stephen King or watching The Twilight Zone will eat up these unique, often gruesome, at times humorous, short stories." —School Library Journal
"Edgerton 'brings to this task an unerring ear for dialogue and a sure-handed sense of place… He has affection for even his most despicable characters—'boring' Robert, who pours scalding water over his sleeping wife in 'The Last Fan'; Jake, the musician responsible for his own daughter's death in 'The Jazz Player'; and Tommy in 'I Shoulda Seen a Credit Arranger,' whose plan to get hold of some money involved severing the arm of a rich socialite… " —New York Times Book Review
About the Author
LESLIE H. EDGERTON, author of The Death of Tarpons, lives in Ft. Wayne, Indiana. In 1993, he was declared "one of Indiana's Best Writers" by Arts Indiana.