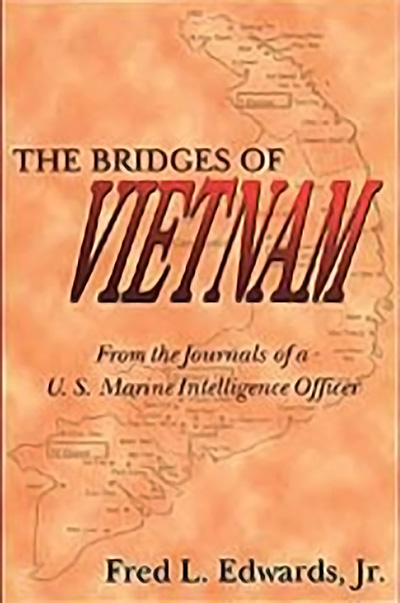 The Bridges of Vietnam: From the Journals of a U.S. Marine Intelligence Officer
4 photos. 4 maps. Index.
Features
About Edwards's The Bridges of Vietnam
As an intelligence officer during the Vietnam War, Fred L. Edwards, Jr., was instructed to "visit every major ground unit in the country. Go to Special Forces camps, ground reconnaissance units, armored cavalry units, and waterborne reconnaissance units. Search everywhere for intelligence sources' long range patrols, boats, electronic surveillance, and agent operations. Don't get bogged down by dog-and-pony shows staged for colonels and generals."
"While he was searching, Edwards found time to keep a journal, an extremely well-written, sharply observed report of his adventures. Along with contemporary postscripts and a helpful historical chronology, that journal is a significant improvement on most Vietnam memoirs. It is the record of a Marine's on-the-job education." —Proceedings
"In Vietnam [Edwards] 'bridged' the gap between front line and rear echelon officers by serving as a field intelligence officer in 1966-67… Edwards' tale is frequently riveting, especially when describing the travails of combat soldiers fighting a war that, with hindsight, can be seen as futile. One is struck by the naivete of the commanders as they tally up body counts and assume villages are pacified." —Booklist
"The level and category of insight contained in Bridges easily make it a 'should-read' for those who served there, and quite firmly elevate it to 'should-be-required-reading' for any serious students of the Vietnam War years." —Major Don Lohmeier, USMC (ret.)
"Killing the enemy was not the challenge; finding him was, and Edwards' superiors wanted to ensure this was happening at sea and ashore… The result is a narrative with a feel and authenticity that make it a worthy book for all readers interested in the intelligence aspects of the Vietnam War." —Military History of the West
About the Author
FRED EDWARDS, who was a captain and a major when he wrote the journal, culminated a thirty-year Marine Corps career as a lieutenant colonel. After the events narrated in this book, he returned to Vietnam in 1973 before retiring from the Marines in 1979.