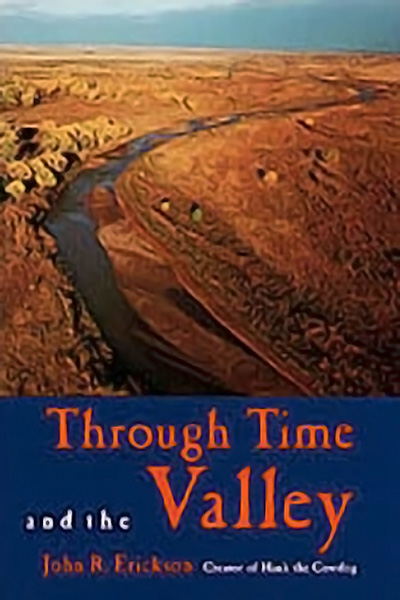 Through Time and the Valley
Contributors: Photographs by Bill Ellzey
31 b&w photos. Map. Bib. Index.
Features
About Erickson's Through Time and the Valley
The isolated Canadian River in the Texas Panhandle stretched before John Erickson and Bill Ellzey as they began a journey through time and what the locals call "the valley." They went on horseback, as they might have traveled it a century before. Everywhere they went they talked, worked, and swapped stories with the people of the valley, piecing together a picture of what life has been like there for a hundred years. Through Time and the Valley is their story of the river—its history, its lore, its colorful characters, the comedies and tragedies that valley people have spun yarns about for generations. Outlaws, frontier wives, Indian warriors, cowboys, craftsmen, dance-hall girls, moonshiners, inventors, ranchers—all are part of the Canadian River country heritage that gives this book its vitality.
"Through Time and the Valley is the finest non-scholarly account of the history, culture, and people of this region… . What I did notice was humor, pathos, strong characterization, crisp dialogue, and such a sense of place as to bring a lump to my throat." —Roundup Magazine
"This is such a nice book, written in a perceptive but relaxed style, and with a pervasive sense of the land on every page… . This includes discussions of both battles at Adobe Walls, with much on Billy Dixon, Kit Carson, and Charles Goodnight." —Council Fires
"[T]his is a pleasant journey back in time to a distinct locale in Texas." —Review of Texas Books
About the Author
JOHN R. ERICKSON, a fifth-generation Texan, was born and raised in the Texas Panhandle. In 1982 Erickson launched the Hank the Cowdog series, with sales well over seven million copies and counting. He is the author of Prairie Gothic, The Modern Cowboy, Catch Rope, LZ Cowboy, Panhandle Cowboy, Some Babies Grow Up to Be Cowboys, and Friends, all published by the University of North Texas Press.