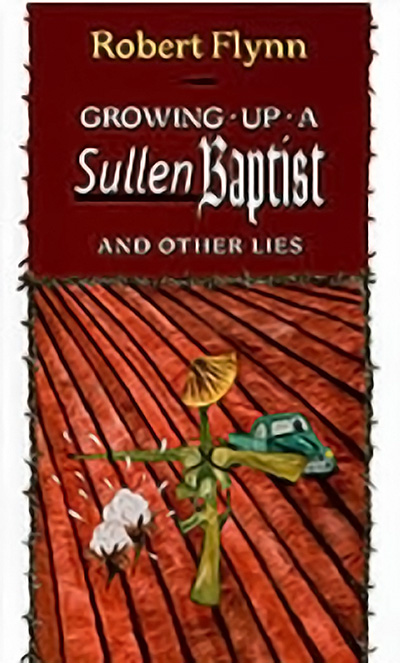 Growing Up a Sullen Baptist and Other Lies
Contributors: Foreword by Joyce Gibson Roach
September, 2001
Published
Recommended Text
Ideal for Classrooms
About Flynn's Growing Up a Sullen Baptist and Other Lies
Robert Flynn has gathered an eclectic array of seventeen essays, all of which will evoke a direct and immediate response. Ranging from humorous to satirical, from persuasive to sarcastic, Flynn moves from preaching to the choir to preaching at the choir. Trained as both a Baptist and a Marine, he explores the concepts gleaned from a world that this training did not equip him to control, improve, or escape. Flynn admits he has tried to meld the pretty presumption of the Baptists that "all men are brothers" with the hard presumption of the Marines that "you will attack until I say you are dead." He calls the result an unholy view of the world in which he lives and survives, alternating between humor and anger.
"I didn't have an ideal youth but it may be fair to say I had an idealistic youth. The center of my life was family, church, school, country in roughly that order. My home was full of love and also strife. My church was full of faith and also prejudice. The school I attended had diversity and segregation. My country exhibited oneness during World War Two but behind the show was a class war, a race war, a political war, even war between the branches of military service. The media was one propaganda arm of the government and the church was another. I was unaware of much of that; the rest I overlooked. I overlooked it in order to believe that my family was indivisible, that if the whole world were Christian, especially if they were Baptist Christians, the world would be full of love and peace." —From the Introduction
"Bob Flynn never bores. If you've ever heard him read or give a talk, you know what I mean. If you've read him before, you're probably already hooked. Bob is a Texan—proof that when we have a right to, it really feels good to brag." —Walt McDonald, author of Rafting the Brazos (University of North Texas Press)
"Bob Flynn is the funniest man in Texas. When he talks about his co-religionists, the Baptists, he is reverent, irreverent, acerbic, satiric, sensitive, and thoughtful. But he is always hilarious. This book shows Bob Flynn at his very best, but will it get him into Heaven?" –—James Ward Lee, author of Texas, My Texas (University of North Texas Press)
Contents:
"Growing Up a Sullen Baptist"
"Miracles in Chillicothe"
"A Baptist Looks Askance"
"A Sense of Place" (coauthored with Joyce Gibson Roach)
"Enduring Love" (coauthored with Jean Flynn)
"Lions in Camp"
"Truth and Beauty"
"Jeremiah Was a Bulldog"
"City of Fire-Jerusalem"
"The Combined Platoon"
"Understanding Vietnam"
"Hooked on Heroes"
"India, the Divided Crowd"
"Still the Street without Joy"
"Understanding Pol Pot"
"Pol Pot Legacy"
"John Wayne Must Die"
Classroom Adoption
Growing Up a Sullen Baptist and Other Lies is a recommended text for use in classrooms where the following subjects are being studied: Creative Writing, Literature, and Poetry.
Trained as both a Baptist and a Marine, Flynn writes of reconciling Baptist views (all men are brothers in love) with Marine views (you are a professional killer and you will attack until I say you are dead), injecting humor and acerbic wit throughout. "Sullen Baptists is a treat for old fans of Robert Flynn."—Amarillo Globe News
Adopted By
["University of Texas at Dallas for "Creating Short Stories""]
About the Author
ROBERT FLYNN, a native of Chillicothe, Texas, is the author of eight novels, among them North To Yesterday (winner of awards from the Texas Institute of Letters and the National Cowboy Hall of Fame, and named one of the Best Books of the Year by the New York Times) and Wanderer Springs (winner of a Spur Award from Western Writers of America). He is also the author of Growing Up a Sullen Baptist and Other Lies from the University of North Texas Press. He lives in San Antonio with his wife, Jean.