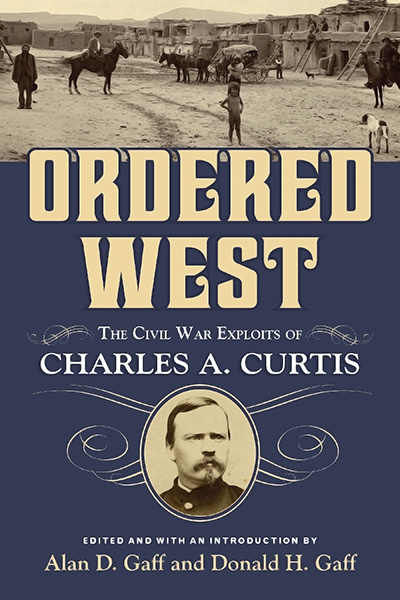 Ordered West: The Civil War Exploits of Charles A. Curtis
Finalist for the 2018 New Mexico-Arizona Book Awards in Biography
31 b&w illus. 4 maps. Notes. Bib. Index.
Features
About Gaff and Gaff's Ordered West
During the Civil War, Charles Curtis served in the 5th United States Infantry on the New Mexico and Arizona frontier. He spent his years from 1862 to 1865 on garrison duty, interacting with Native Americans, both hostile and friendly. Years after his service and while president of Norwich University, Curtis wrote an extensive memoir of his time in the Southwest. Curtis's reminiscences detail his encounters with Indians, notable military figures, eccentrics, and other characters from the Old West—including Kit Carson—as well as the construction of Fort Whipple and expeditions against the Navajo and Apache.
In Ordered West, editors Alan D. Gaff and Donald H. Gaff annotated the text with footnotes identifying people, places, and events, also adding pictures of key figures and maps.
About the Editor
ALAN D. GAFF is an independent scholar and President of Historical Investigations. His previous books include Bayonets in the Wilderness, Blood in the Argonne, and On Many a Bloody Field.
DONALD H. GAFF is Associate Professor of Anthropology at the University of Northern Iowa, and co-editor with Alan D. Gaff of A Corporal's Story: Civil War Recollections of the Twelfth Massachusetts.