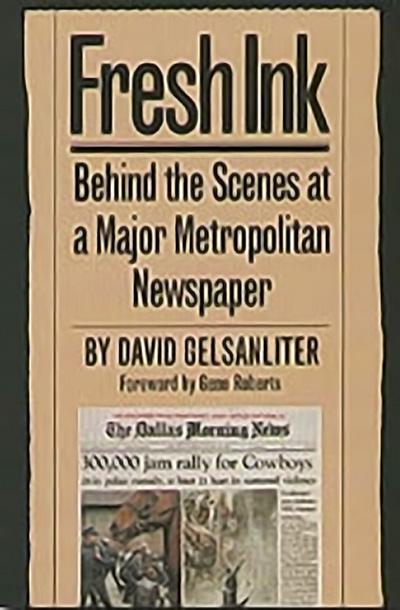 Fresh Ink: Behind the Scenes of a Major Metropolitan Newspaper
Contributors: Foreword by Gene Roberts
8 color, 40 b&w photos. Bib. Gloss. Index.
Features
About Gelsanliter's Fresh Ink
Fresh Ink: Behind the Scenes at a Major Metropolitan Newspaper is now available as a free e-book at the UNT Digital Library and The Portal to Texas History.
"I can think of no untold journalistic story more important than that of The Dallas Morning News. And no writer better equipped to tell it than David Gelsanliter. Fresh Ink is a remarkable marriage of subject and author." —Gene Roberts, Managing Editor, New York Times
"By describing one week in the paper's routine, Gelsanliter explains not only how the business works, but why The Dallas Morning News may fail in its minority coverage, how it tries to reach suburban dwellers and why certain articles appear where and how they do… A fascinating study in watching the Watchmen." —Publisher's Weekly
"A lively, enlightening case study of newspaper journalism." —Booklist
"News is what happens at the margins of our lives. We see our newspaper as a member of the family—coming into the house before breakfast, when you may still be a little grumpy, before you've brushed your teeth perhaps, before you've had your first cup of coffee. Tone of voice is important then. There is seldom a need to shout." —Burl Osborne, Editor and Publisher, The Dallas Morning News
Futurists have called newspapers the last of the great smokestack industries—decrepit, dated, and destined to die. Fresh Ink offers proof that this need not be true. Newspapers are still a mass medium, able to gather a set of facts and create a sense of community each day—if they will.
Fresh Ink tells how Robert Decherd and Burl Osborne transformed a flawed paper with a checkered history into the leading newspaper in the southwest, winning seven Pulitzer Prizes along the way, one of them for graphics—the only newspaper to ever do so. The focus is on a week in the life of The Dallas Morning News, the death a month later of the competing Dallas Times Herald, and how the News has conducted itself since.
By offering an inside look at what is arguably the most successful newspaper in the country, this book makes an important contribution to the history of journalism.
About the Author
DAVID GELSANLITER served as a diplomat in South America, West Africa and Washington, D.C. After eleven years with Knight-Ridder newspapers in Charlotte, Miami, and Philadelphia, he became general manager of the Philadelphia Inquirer and the Philadelphia Daily News. Now a writer living in New Mexico, his previous book was Jump Start: Japan Comes to the Heartland.