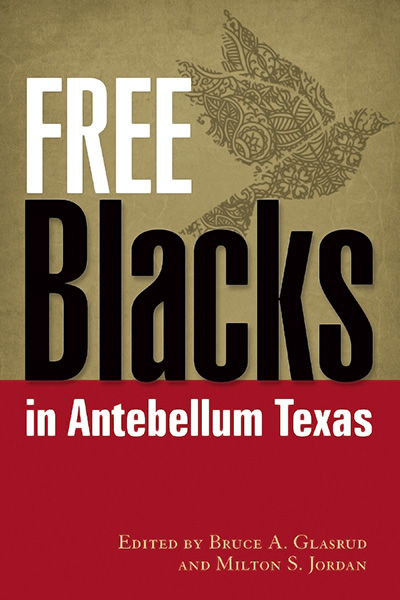 Free Blacks in Antebellum Texas
September, 2015
Published
Notes. Bib. Index.
Features
About Glasrud and Jordan's Free Blacks in Antebellum Texas
Free Blacks in Antebellum Texas collects the essays of Harold R. Schoen and Andrew Forest Muir, early scholars who conducted the most complete studies on the topic, although neither published a book. Schoen published six articles on "The Free Negro in Republic of Texas" and Muir four articles on free blacks in Texas before the Civil War.
Free black Texans experienced the dangers and risks of life on the frontier in Texas. Those experiences, and many others, required of them a strength and fortitude that evidenced the spirit and abilities of free blacks in antebellum Texas. Sometimes with support from a few whites, as well as their own efforts, they struggled and survived. Editors Bruce A. Glasrud and Milton S. Jordan include a thoughtful introduction and a wide-ranging bibliography.
"Schoen and Muir were first-rate historians, and their pioneering work stands today as outstanding scholarship. The editors provide a solid overview of the subject, and their bibliography will be useful to anyone interested on free blacks in Texas." —Randolph B. Campbell, author of Gone to Texas and An Empire for Slavery
About the Editor
BRUCE A. GLASRUD is Professor Emeritus of History, California State University, East Bay; Retired Dean, School of Arts and Sciences, Sul Ross State University; and a Fellow of the Texas State Historical Association and of the East Texas Historical Association. Glasrud has published nineteen books including Buffalo Soldiers in the West and Brothers to the Buffalo Soldiers.
MILTON S. JORDAN is a graduate of Southwestern University in History and has a Master of Divinity degree from Southern Methodist University. He is co-editor of If Not Me, Who? a memoir of East Texas civil rights activist Wendell Baker. Jordan lives in Georgetown, Texas.