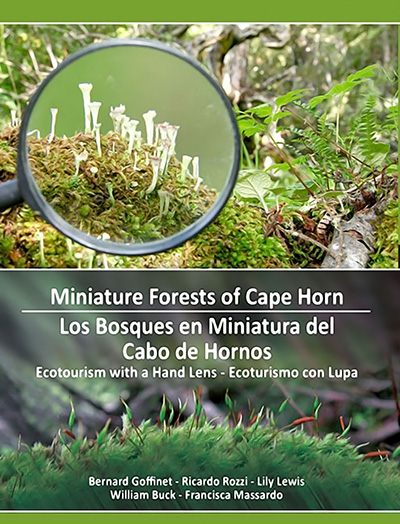 Miniature Forests of Cape Horn: Ecotourism with a Hand Lens
250 color illus. Bib.
Features
About Goffinet et al.'s Miniature Forests of Cape Horn
In the humid forests of Cape Horn, a single tree can host more than 100 species of little epiphyte plants. The floor of the forest and the rocks are also covered by numerous species of liverworts, mosses, and lichens. The decision to stop at a tree or rock and explore these "miniature forests" generates an authentic ecotourism experience. In a small area we can spend several minutes or hours with a magnifying glass or camera discovering the colors, shapes, and textures of the most diverse organisms of Cape Horn.
This guidebook enhances exploration by providing information to understand the architecture, life cycles, and identification of taxonomic groups of the organisms that form them. For example, when viewing a yellow orange organism, the full color pictures and text in the guidebook illustrate that what you are viewing on the inter-tidal rocks is a crustose lichen, with a well-defined circular structure belonging to the genus Caloplaca that enjoys a broad distribution in inter-tidal zones of Arctic and Antarctic areas.
The authors of this guidebook also provide a novel twist on other, more traditional field guides to bryophytes and lichens by introducing the innovative, sustainable tourism activity of "ecotourism with a hand lens." They present a strong natural history narrative and an ecological and ethical orientation for the appreciation of wonders of the miniature forests of Cape Horn.
"This book is an extremely important contribution that promotes the appreciation of how important bryophytes and lichens are in high latitude ecosystems. The complementary photographs showing a more long-distance habitat shot, plus a close-up more like one might see with a hand lens, are quite nice." —Jon Shaw, professor of biology, Duke University
About the Authors
BERNARD GOFFINET is professor of biology at the University of Connecticut, Storrs, and editor-in-chief of the journal The Bryologist.
RICARDO ROZZI is a professor in the Department of Philosophy and Religion Studies at the University of North Texas, and the Universidad de Magallanes in Chile. He is co-author of Multi-Ethnic Bird Guide of the Sub-Antarctic Forests of South America, Miniature Forests of Cape Horn, and Magellanic Sub-Antarctic Ornithology (UNT Press).
LILY LEWIS is a doctoral student in bryophyte bryogeography, systematics, diversity, and conservation in high latitude regions.
WILLIAM BUCK is senior curator at the New York Botanical Garden and author or editor of numerous publications on bryophytes.
FRANCISCA MASSARDO is director of the Omora Ethnobotanical Park and the University of Magallanes campus in Puerto Williams, Chile.