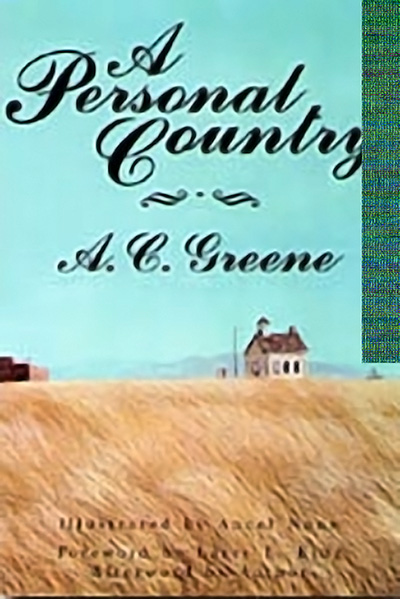 A Personal Country
26 drawings. Index.
Features
About Greene's A Personal Country
Coming up on the thirtieth anniversary of its first publication, this book brings alive what one man feels about his childhood home. The place is West Texas, seen across a long vista in which today's events and people merge with the author's boyhood and young manhood. It is a harsh, remote country, where the weather is always very close and the horizon far away. The Brazos country of long-ago Fourth of July fishing expeditions; the grass-grown remains of a way station of the Butterfield Stage Line; the streets of Abilene; the sparse grazing lands under infinite skies—all are made resonant by a native son's affection and understanding. It is a way of life—resilient and persnickety—that is almost gone. Above all, it is people: the author's grandmother, who had a mortal fear of bridges and whose premonitions of unnamed calamities (that as often as not happened), both alarmed and pleased the young boy; Uncle Aubrey, "who married late"; the blacksmith they awakened in the dead of night to repair the family Maxwell; the familiar neighbors; the rare and deliciously mysterious strangers.
With humor and strong, unsentimental feeling, A. C. Greene conserves for us the priceless eccentricities of place and person that are being flattened out—almost literally bulldozed away—by the impatient, insatiable onrush of the twentieth century. His West Texas is a very personal country, but what he seeks to share will be familiar to all who take pleasure in the memories that tie them to their own special region of America.
"…a book that has strength, character, and personality." —The New Yorker
"Greene is at his best when he describes the peculiar, idiosyncratic, and proud people that this frontier world has produced." —Lone Star Book Review
"…paints a vivid, colorful, and… sad picture of the hard life of the people… " —Lone Star Book Review
"…well-written volume, hauntingly evocative… " –—The Pacific Historian
"Greene's evocation… is personal, humorous, loving and frequently poetic. One could go a long way toward understanding West Texas by reading this book and nothing else." —Books of the Southwest
"East Texans often glow with appreciation for their section, and wonder why anyone would want to live 'out there.' They may still feel that way after seeing West Texas through the memory of Greene, but they will have looked on the other side of the trees and be better for it." —East Texas Historical Association
About the Author
A. C. GREENE was born in 1923 in Abilene, Texas and after service in WWII he graduated from Abilene Christian College. He served on the staff of the Abilene Reporter-News, ran his own bookstore and headed the journalism department at Hardin-Simmons University. He joined the Dallas Times-Herald, serving as book editor and editorial page editor before being awarded a Dobie-Paisano fellowship during which he wrote A Personal Country. He wrote a column for The Dallas Morning News and wrote more than 22 books. He published numerous articles in The Atlantic, Texas Monthly, Southwest Review, Southwestern Historical Quarterly, New York Times Book Review, and wrote and narrated many television shows for PBS. He was a Fellow in the Texas State Historical Association and the Texas Institute of Letters.