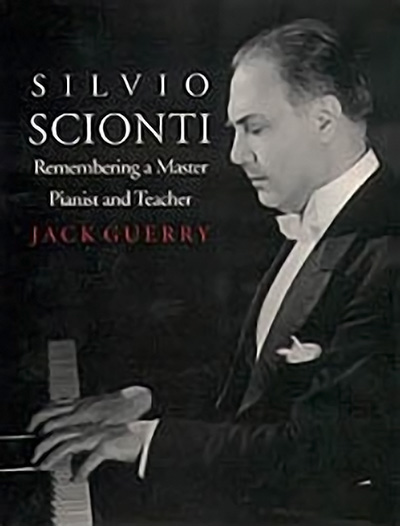 Silvio Scionti: Remembering a Master Pianist and Teacher
80 b&w photos. Index.
Features
About Guerry's Silvio Scionti
"Scionti's arrival at the School of Music, University of North Texas in the early '40s… ushered in… a golden age… in the musical life in the area… By the late '40s his students were beginning to rival those of the Juillard School's Rosina Lhevinne in the number of prizes taken on a national level, and by the early 1950s they were competing successfully in the international arena… A handsomely produced biography covering the life and career of the teacher." —Dallas Morning News
Silvio Scionti was a zestful, colorful figure, as well as a master pianist and teacher. Stories about him, particularly about his more than ten-year career at the University of North Texas, are legion, and author Jack Guerry—a former Scionti student—has collected many of them in this remembrance and biography.
Scionti firmly established his reputation as a compelling pianist, whose playing has been described as powerful, vital, and full of eloquence, during his twenty-six years at the American Conservatory in Chicago. Known especially throughout the United States and Europe for his duo-piano playing, Scionti's career flourished when he married Texan Isabel Laughlin, and the 'irreproachable and irrepressible Sciontis' impressed critics wherever they played.
Lured to North Texas in 1942, the Sciontis were instrumental in the growth of the School of Music to the stature it still claims today. Scionti's "buoyant spirit," enthusiasm, talent, and reputation brought students to Denton from around the country. Many members of Scionti's "student family"—themselves now professionals and teachers—have contributed their recollections to this volume including tales of Scionti's proverbial Italian spaghetti dinners, exhausting hikes up Mount Etna, and high-speed sight-seeing along Italian mountain lanes with Scionti at the wheel of his "magnificent red Buick."
The "indefatigable" Scionti never stopped: When he was seventy and near the end of his North Texas career, he organized a ten-day tour of five states for his eight-piano ensemble—taking the eight pianos along and assembling them at each of the thirteen cities visited. Even through his "retirement" years, Scionti still was busy teaching and opening professional doors for students who continued to seek him out.
About the Author
JACK GUERRY holds the rank of Alumni Professor of Music (Piano), one of the distinguished professorships at Louisiana State University. His B.M. and M.M. degrees in piano are from the University of North Texas where he was a scholarship student of Silvio Scionti as well as his assistant. He was granted the Ph.D. in music from Michigan State University.