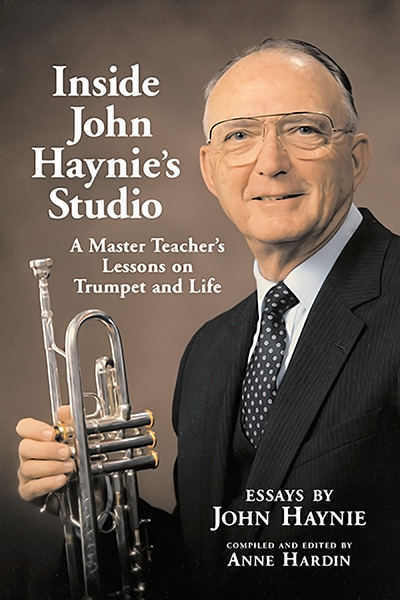 Inside John Haynie's Studio
Contributors: Compiled and edited by Anne Hardin
44 photos. Index.
Features
About Haynie and Hardin's Inside John Haynie's Studio
What was it about the way John Haynie approached trumpet lessons that made such an impression on so many of his students? What were his instructions? How did the lessons transfer from the studio to the recital hall to their life after college? Come inside the studio and relive some of these students' lessons. Take a seat on the other side of the stand from master teacher John Haynie.
"This wonderful collection of essays is a treasure of insight into the mind and heart of one of our great American performers and teachers. If the Arban book is the trumpet player's 'Bible,' then I'd have to say Inside John Haynie's Studio is the trumpet teacher's 'Bible.'" –—Ronald Romm, founder, Canadian Brass and Professor of Trumpet, University of Illinois
"This book is a marvelous collection of essays on embouchure, breathing, tonguing, fingering, musicianship, intonation, equipment, habits, and mental discipline." —International Trumpet Guild Journal
"The essays in this remarkable volume go far beyond trumpet pedagogy, providing an exquisite portrait of the studio practices of one of the first full-time single-instrument wind faculty members in an American college or university setting. John's concern for educating the whole person, not just cramming for the job market, emanates from every page. This book showcases a teaching career that has become legendary." —James Scott, Dean of the College of Music, University of North Texas
"The principle that pervades my entire educational philosophy did not come from education or psychology classes; it did not come from the many sermons preached by my Dad and hundreds of other pulpiteers. It came from John Haynie's studio." —Douglas Smith, Mildred and Ernest Hogan Professor of Music, Southern Baptist Theological Seminary
"I read a book like this and I come out the other end asking, 'Why didn't I try this long before now?' All hail to John Haynie and Anne Hardin." —Ray Bradbury, author of Fahrenheit 451
About the Author
JOHN JAMES HAYNIE was hired in 1950 by then-North Texas State College to teach trumpet, and he retired from the University of North Texas in 1990. During his career at North Texas, he taught some of its most successful musician graduates, including Marvin Stamm and Keith Johnson.
About the Editor
ANNE HARDIN is the former editor of the International Trumpet Guild Journal. Both Haynie and Hardin are recipients of the ITG Award of Merit.