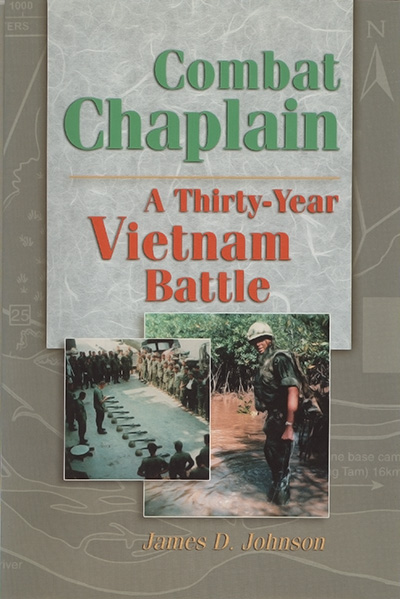 Combat Chaplain: A Thirty-Year Vietnam Battle
35 b&w illus. 5 maps. Index.
Features
About Johnson's Combat Chaplain
Chaplain James D. Johnson broke all the rules to be with his men. He chose to accompany them, unarmed, on their daily combat operations, a decision made against the recommendations of his superiors. During what would be the final days for some, he offered his ministry not from a pulpit but on the battlefields—in hot landing zones and rice paddies, in hospitals, aboard ship, and knee-deep in mud. He even found time for baptisms in the muddy Mekong River.
"You've never really lived until you've almost died," writes Johnson, one of the youngest army chaplains at the time. Through his compelling narration, he takes us into the hearts of frightened young boys and the minds of experienced men. In Combat Chaplain, we live for eight and one-half months with Johnson as he serves in the field with a small unit numbering 350 men. The physical price can be counted with numbers—ninety-six killed and over nine hundred wounded. Only those who paid it can understand the spiritual and psychological price, in a war that raised many difficult moral issues. "It placed my soul in the lost and found department for awhile," Johnson writes.
Also provided here is an in-depth look at the "Mobile Riverine Operations," a rare joint effort in which the U.S. Army and Navy combined forces. Johnson describes the workings of the flotilla and the complexity of having these two military branches in combat operations.
This is one man's chronicle of Vietnam and the aftermath of war, of his coming to terms with his posttraumatic "demons," and his need for healing and cleansing which led him to revisit Vietnam twenty-eight years later. Veterans of the Vietnam war and other wars, their family members, pastors, chaplains, mental health workers, and anyone who has experienced trauma will find this story of interest.
"This work… has raw insights into the visceral experience of combat and the psychic damage it does which are rarely seen, and almost never from this particular point of view." —Ted Gittinger, Director, Special Projects, Lyndon B. Johnson Library and coeditor of International Perspectives on Vietnam
"This is a very powerful true story, unique in its personal close-up of infantry and Riverine warfare, and the terrible human price paid by one battalion during eight months of the controversial Vietnam War. He shows that even men of God can come to despise the enemy for the evil that they do, while acknowledging that they, too, are God's creations. Chaplain Johnson's book should be required reading by national leaders before they consider whether to commit our troops to combat." —James P. Maloney, Major General, USA, Retired
"A dynamic true story of love, anxiety, fear, and the pathos of war. This is a superlative work and one which ought to rivet the minds and hearts of all who read it." —Patrick J. Hessian, Major General, USA (Ret) Former Chief of Chaplains
"Chaplain Johnson's book should be required reading by national leaders before they consider whether to commit our troops to combat." —James P. Maloney, Major General, USA, Retired
"Be prepared to shed a few tears as Johnson reveals the damage that sustained combat can inflict on a person's psyche. His willingness to share these deeply personal thoughts will be therapeutic to any combat veteran who still suffers from his Vietnam experiences." —Vietnam Magazine
"His descriptions of war's physical and 'emotional fatigue,' and anger at its gruesome results, evoke at times those of the best combat memoirs like E.B. Sledge's With the Old Breed." —On Point
About the Author
JAMES D. JOHNSON received his Ph.D. from Eastern Baptist Theological Seminary. The author of Combat Trauma: A Personal Look at Long-Term Consequences, he lives in Fayetteville, North Carolina.