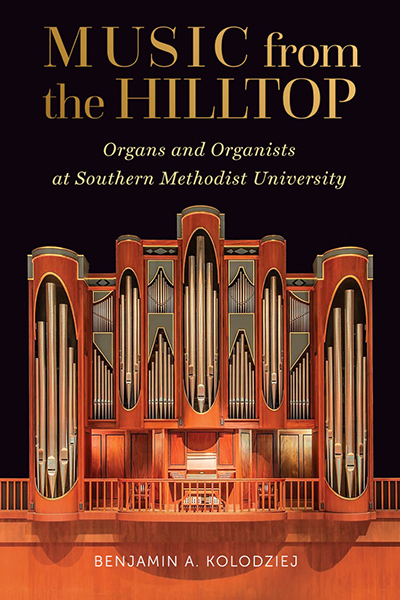 Music from the Hilltop: Organs and Organists at Southern Methodist University
40 b&w illus. Notes. Bib. Index.
Features
About Kolodziej's Music from the Hilltop
In Music from the Hilltop, Benjamin A. Kolodziej studies three significant academic musical figures to weave a narrative that not only details the role musical studies played in the development of Southern Methodist University but also relates a history of church music and pipe organs in Dallas, Texas. Bertha Stevens Cassidy (1876–1959), the first organ professor and the only woman on the faculty of the new university, established herself as a leader and veritable dean of the church music community, managing a career of significant performances and teaching. Her student and protégé, Dora Poteet Barclay (1903–1961), broadened the pedagogical horizons for her students. Many of her own students achieved great professional heights as performers and church musicians.
Robert Theodore Anderson (1934–2009) was intellectually able to bridge the gap between the theologians of the Methodist seminary and the performers at the Meadows School of the Arts. He consulted with the Dallas Symphony to prepare for the installation of an organ in the new Meyerson Symphony Center—an organ that would influence concert hall instruments in subsequent decades.
About the Author
BENJAMIN A. KOLODZIEJ holds graduate degrees in theology and sacred music from SMU, where he is the organist at Perkins Chapel. He is the author of Joyful Singing: A Story of Lutheran Sacred Music in Texas.