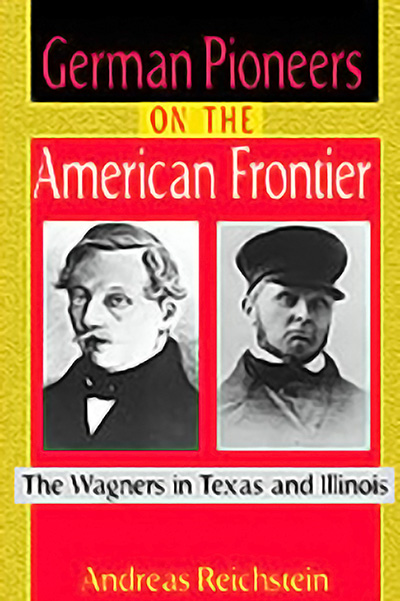 German Pioneers on the American Frontier: The Wagners in Texas and Illinois
26 photos. 6 maps. Notes. Bib. Index.
Features
About Reichstein's German Pioneers on the American Frontier
German Pioneers on the American Frontier: The Wagners in Texas and Illinois is now available as a free e-book at the UNT Digital Library.
A case study of two brothers, Julius and Wilhelm Wagner, who immigrated to the United States from Baden, Germany. Julius immigrated as part of an early communist group, the "Darmstädters" or "Forty," who established the utopian settlement of Bettina in 1847. His anti-slavery beliefs forced Julius to Mexico during the Civil War, but he returned to Texas after the war. His older brother Wilhelm fled Germany in 1851 as a result of his liberal political beliefs and settled in Texas. He founded a German-language newspaper when he moved to Freeport, Illinois.
Using a newly discovered cache of Wagner family letters, Reichstein examines the lives of the brothers as they sought to make better futures for themselves on the new frontier. More than a narrow family history, however, German Pioneers on the American Frontier uses the individual cases of Julius and Wilhelm Wagner to examine the broader historiographical debate about assimilation and acculturation. The question it raises is whether the United States is a collection of separate immigrant cultures or whether those cultures become assimilated in the famous "melting pot." Reichstein's conclusion, based on the experiences of the Wagner brothers and their descendants, is that immigrants identify themselves as American through a variety of processes that are a combination of assimilation and acculturation.
"In this unique biographical case study of 19th-century German migration to the United States, Andreas Reichstein deals with one family's life on both sides of the Atlantic, allowing the reader to understand the 'push' factors that drove the Wagners to emigrate, and the 'pull' factors drawing them to the United States, as well as the cultural changes required for adaptation to America." —Terry G. Jordan, author of German Seed in Texas Soil
About the Author
ANDREAS REICHSTEIN is a Lecturer on American History at the University of Hamburg and a program consultant for NDR (North German Radio). His previous book, The Rise of the Lone Star, won the Elizabeth Broocks-Bates Award, T. R. Fehrenbach Book Award, and the Texas Historical Foundation Book Award. He lives in Bremen, Germany.