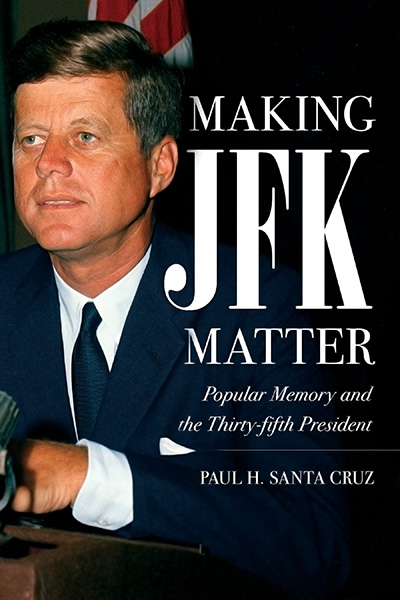 Making JFK Matter: Popular Memory and the 35th President
19 b&w photos. Notes. Bib. Index.
Features
About Santa Cruz's Making JFK Matter
In Making JFK Matter, Paul Santa Cruz examines how popular memory of John F. Kennedy has been used politically by various interest groups, primarily the city of Dallas, Lyndon Johnson, and Robert Kennedy, as well as how the memory of Kennedy has been portrayed in various museums. Santa Cruz argues that we have memorialized JFK not simply out of love for him or admiration for the ideals he embodied, but because invoking his name carries legitimacy and power. Memory can be employed to accomplish particular ends: for example, the passage of long overdue civil rights legislation, or even successfully running for political office.
Santa Cruz demonstrates the presence and use of popular memory in an extensive analysis of what was being said, and by whom, about the late president through White House memoranda and speech material, museum exhibits (such as the Sixth Floor Museum in Dallas and the JFK Presidential Library and Museum in Boston), public correspondence, newspapers and periodicals of the time, memoirs, and archival research. He also explores how JFK has been memorialized in films such as Bobby, JFK, and Thirteen Days. Written in an accessible manner to appeal to both historians and the general public, Making JFK Matter tells us much of how we have memorialized Kennedy over the years.
"No book covers JFK's popular memory as comprehensively as Paul Santa Cruz does." —James N. Giglio, author of The Presidency of John F. Kennedy
"This is a useful political history full of insights about how the contested ground of John F. Kennedy's 'legacy' has been used and misused over time." —Benjamin Hufbauer, author of Presidential Temples: How Memorials and Libraries Shape Public Memory
"Noting that John F. Kennedy has been remembered in an overwhelmingly positive manner by the American public compared to the way he has been judged by the historical community, Santa Cruz proves that popular memory is often an expression of what we want to remember and believe instead of historical fact. A provocative take on a topic that has been exhaustively studied." —Library Journal
"Making JFK Matter reminds us that bringing new methodologies to known topics can yield insights that are genuinely fresh and thought-provoking. By considering JFK's legacy not in terms of what the President did in his lifetime, but rather as a 'site of memory' created after his death, Paul Santa Cruz does just that. His fascinating study shows that when public leaders honored and mobilized the memory of the assassinated President to achieve their own political aims, their memorial work had additional, far-reaching cultural effects, creating a powerful image of what an American President should be in ways that are still with us today." —Lisa Moses Leff, author of The Archive Thief: The Man Who Salvaged French Jewish History in the Wake of the Holocaust
About the Author
PAUL H. SANTA CRUZ is an archivist at the George W. Bush Presidential Library in Dallas. Previously he was with the DeGolyer Special Collections Library at Southern Methodist University. He received his B.A. in history from Southwestern University and his M.A. in history from Southern Methodist University.