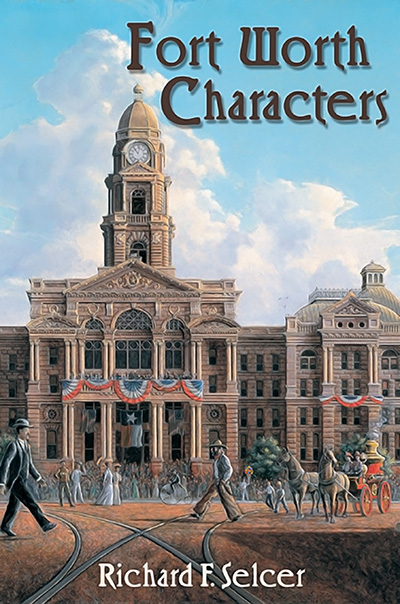 Fort Worth Characters
43 b&w illus. 1 Map. Notes. Bib. Index.
Features
About Selcer's Fort Worth Characters
Fort Worth history is far more than the handful of familiar names that every true-blue Fort Worther hears growing up: leaders such as Amon Carter, B. B. Paddock, J. Frank Norris, and William McDonald. Their names are indexed in the history books for ready reference. But the drama that is Fort Worth history contains other, less famous characters who played important roles, like Judge James Swayne, Madam Mary Porter, and Marshal Sam Farmer: well known enough in their day but since forgotten. Others, like Al Hayne, lived their lives in the shadows until one, spectacular moment of heroism. Then there are the lawmen, Jim Courtright, Jeff Daggett, and Thomas Finch. They wore badges, but did not always represent the best of law and order. These seven plus five others are gathered together between the covers of this book. Each has a story that deserves to be told.
If they did not all make history, they certainly lived in historic times. The jury is still out on whether they shaped their times or merely reflected those times. Either way, their stories add new perspectives to the familiar Fort Worth story, revealing how the law worked in the old days and what life was like for persons of color and for women living in a man's world. As the old TV show used to say, "There are a million stories in the 'Naked City.'" There may not be quite as many stories in Cowtown, but there are plenty waiting to be told—enough for future volumes of Fort Worth Characters. But this is a good starting point.
"To historian Rick Selcer, history has always been fun, and in this readable volume he shares the stories of some of the lesser known characters that he has encountered in his search of Fort Worth's past." —Ron Tyler, Director, Amon Carter Museum, Fort Worth, Texas
"Rick Selcer is one of Fort Worth's best known literary 'characters,' and he has now given us a truly engrossing book on some Fort Worth's most interesting historical 'characters.' Rick's newest work is must reading for everyone interested in Fort Worth and Texas history." —Douglas Harman, former President and C.E.O. of the Fort Worth Convention & Visitors Bureau
"This is a story that covers the lives of twelve individuals who shaped Fort Worth into the magical city it has become with a historic past, an exciting present, and a fantastic future! The characters cover all types of individuals, some who became Fort Worth leaders in law and order, business, oil, cattle, and railroads. Everyone had a special story to tell and these characters are waiting to share their legacies." —Bob Bolen, Mayor of Fort Worth from 1982-1991
"Rick Selcer, more than any other author of local history, continues to provide deeper study of the city, its legends, and the ordinary people whose lives shaped Fort Worth. Much of what he includes in this book has never been published." —Quentin McGown, former chair, Tarrant County Historical Commission
"A great deal of the information for this manuscript results from original research. Rick makes excellent use of nineteenth-century contemporary newspapers and court records." —J'Nell Pate, author of Livestock Legacy: The Fort Worth Stockyards, 1887-1987
About the Author
RICHARD F. SELCER is the author of Fort Worth Characters (UNT Press) and Hell's Half-Acre: The Life and Legend of a Red-Light District, and coauthor of Legendary Watering Holes: The Saloons that Made Texas Famous. He is a long-time adjunct professor at Tarrant County College and the International University in Vienna, and resides in Fort Worth.