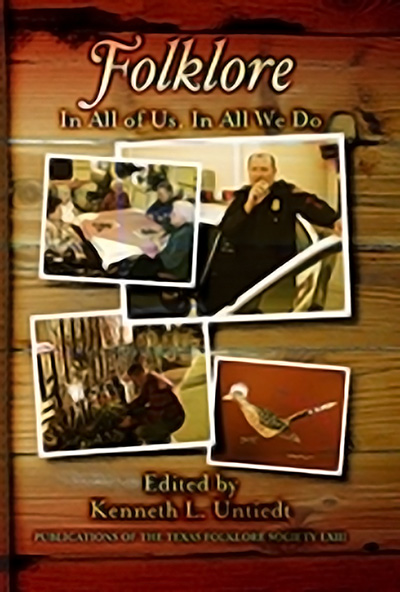 Folklore: In All of Us, In All We Do
50 illus. Bib. Index.
Features
About Untiedt's Folklore
Folklore: In All of Us, In All We Do is now available as a free e-book at the UNT Digital Library and The Portal to Texas History.
Folklore is everywhere, whether you are aware of it or not. A culture's traditional knowledge is used to remember the past and maintain traditions, to communicate with other members within a community, to learn, to celebrate, and to express creativity. It is what helps distinguish one culture from another. Although folklore is so much a part of our daily lives, we often lose sight of just how integral it is to everything we do. If we look for it, we can find folklore in places where we'd never think it existed.
Folklore: In All of Us, In All We Do includes articles on a variety of topics. One chapter looks at how folklore and history complement one another; while historical records provide facts about dates, places and names, folklore brings those events and people to life by making them relevant to us. Several articles examine the cultural roles women fill. Other articles feature folklore of particular groups, including oil field workers, mail carriers, doctors, engineers, police officers, horse traders, and politicians. As a follow-up article to Inside the Classroom (and Out), which focused on folklore in education, there is also an article on how teachers can use writing in the classroom as a means of keeping alive the storytelling tradition.
The Texas Folklore Society has been collecting and preserving folklore since its first publication in 1912. Since then, it has published or assisted in the publication of nearly one hundred books on Texas folklore.
About the Editor
KENNETH L. UNTIEDT is the Secretary-Editor of the Texas Folklore Society. He earned his bachelor's, master's, and doctoral degrees from Texas Tech University. He is a professor of English at Stephen F. Austin State University, where he teaches Technical Writing, American literature, and folklore. He and his family live on a farm west of Nacogdoches, Texas.