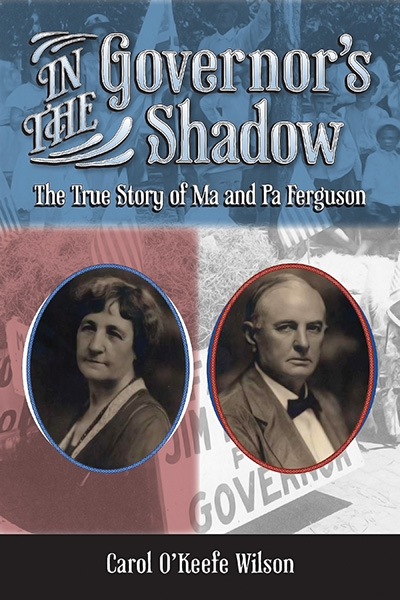 In the Governor's Shadow: The True Story of Ma and Pa Ferguson
28 b&w photos. Notes. Bib. Index.
Features
About Wilson's In the Governor's Shadow
In 1915 Governor James Ferguson began his term in Texas bolstered by a wave of voter enthusiasm and legislative cooperation so great that few Texans anticipated anything short of a successful administration. His campaign was based on two key elements: his appeal to the rural constituency and a temporary hiatus from the effects of the continuous Prohibition debate. In reality, Jim Ferguson had shrewdly sold a well-crafted image of himself to Texas voters, carrying into office a bevy of closely guarded secrets about his personal finances, his business acumen, and his relationship with Texas brewers. Those secrets, once unraveled, ultimately led to charges brought against Governor Ferguson via impeachment.
Refusing to acknowledge the judgment against him, Ferguson launched a crusade for regained power and vindication. In 1925 he reclaimed a level of political influence and doubled the Ferguson presence in Austin when he assisted his wife, Miriam, in a successful bid for the governorship. That bid had been based largely on a plea for exoneration but soon degenerated into a scandal-plagued administration.
In the Governor's Shadow unravels this complex tale, exposing the shocking depth of the Fergusons' misconduct. Often using the Fergusons' own words, Carol O'Keefe Wilson weaves together the incontestable evidence that most of the claims that Jim Ferguson made during his life regarding his conduct, intentions, achievements, and abilities, were patently false.
"In the Governor's Shadow will be significant and the starting source for anyone wanting to study Texas politics during these decades. It is well-written and engaging enough to appeal to popular and academic audiences." —Angela Boswell, author of Her Act and Deed: Women's Lives in a Rural Southern County, 1837-1873
About the Author
CAROL O'KEEFE WILSON is a 1987 graduate of the University of Mary Hardin-Baylor in Belton, a Texas CPA, and a retired Certified Fraud Examiner. A native of Temple, Texas, Wilson put her auditing experience to work in this extensive study of the governors who hailed from her hometown.