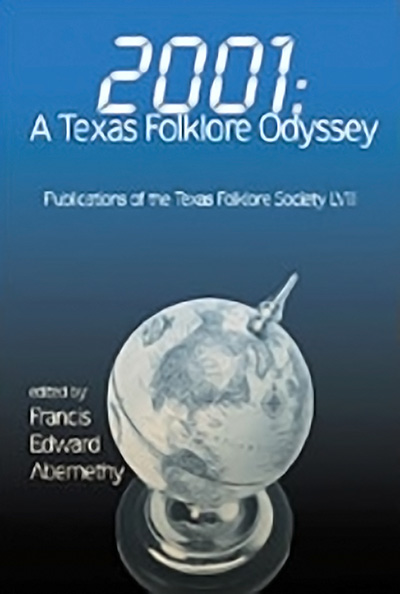 2001: A Texas Folklore Odyssey
54 illustrations. Index.
Features
About Abernethy's 2001
2001: A Texas Folklore Odyssey is now available as a free e-book at the UNT Digital Library and The Portal to Texas History.
2001: A Texas Folklore Odyssey is a journey-or odyssey-through the Texas Folklore Society as of the year 2001 A.D. It contains a sample of the research that members of the Society were doing at the turn of the millennium as represented at the 1998, 1999, and 2000 meetings. Because folklore is a part of the past as well as of the future, a wide variety of contemporary and historical topics are explored. Contemporary topics include grandparenting, uppity women, and Spam. Historical topics include the Model T, the Yellow Rose of Texas, and hunting horns. Also included is a discussion of recipes from Austin's famed Green Pastures restaurant and The Texas Cookbook (reissued by the University of North Texas Press in August 2001).
Contains:
Preface - F. E. Abernethy
"It's the Watkins Man" - Kenneth Davis
"Now You Hear My Horn!" - Thad Sitton
"That Dirty Little Coward" - Tony Clark
"Mother's Model T" - George Ewing
"The Origins of the Texas Style of Traditional Old-Time Fiddling" - Charles Gardner
"Epics of Defeat: Texas' Alamo and Scotland's Culloden" - Sylvia Grider
"The Roswell Incident: Fiftieth Anniversary Sell-Abration" - Becky Matthews
"Greetings from Frank Dobie" - Kevin Hill
"Baby Lore: The Why and Wherefore of It" - Joyce Roach
"Grandparenting" - Hazel S. Abernethy
"It All Began the Day My Conscience Died: The Cheatin' Song from Prototype to Post-Modern" - Richard Holland
"La Quinceañera: A Hispanic Folk Custom" - Phyllis Bridges
"The Breakfast of Champions" - J. G. Pinkerton
"Women A-Horseback: Side or Astride" - Carolyn Norgaard
"This story has no leeeeede!" - Mike Cox
"Recipes from Green Pastures" - Mary Faulk Koock
"Take Me Out to the Ballgame" - John Lightfoot
"How Cloth was Dyed During the Civil War in Washington County, Texas" - Peggy Redshaw
"Uppity Women" - Archie McDonald
"Praising Potted Pork Parts: Austin's One and Only Spamarama" - L. Patrick Hughes
"Homemade Religion: Miraculous Images of Jesus and the Virgin Mary in South Texas" - Rhett Rushing
"The Roy Bedichek Family Letters" - Frances B. Vick
"Emily D. West and the Yellow Prose of Texas: A Primer on Some Primary Documents and Their Doctoring" - James Lutzweiler
"Folksong's Fabled 'Yellow Rose of Texas'" - F. E. Abernethy
"A Custom among Animals: Making a Drive" - F. E. Abernethy
About the Editor
FRANCIS EDWARD ABERNETHY was Regents Professor Emeritus of English at Stephen F. Austin State University, the executive secretary and editor of the Texas Folklore Society, the curator of exhibits for the East Texas Historical Association, and a member of the Texas Institute of Letters. In addition to editing twenty-one Texas Folklore Society publications, he wrote Singin' Texas, Legends of Texas' Heroic Age, and all three volumes of the Texas Folklore Society history, published by the University of North Texas Press.