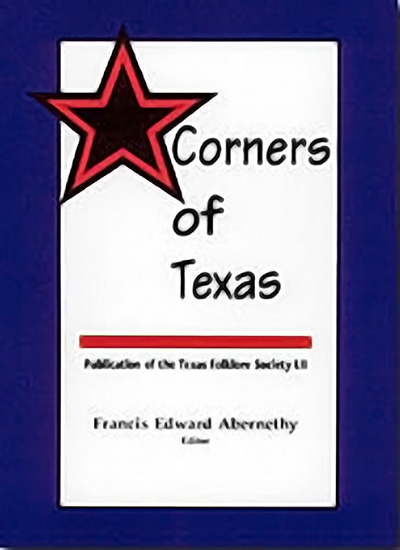 Corners of Texas
60 b&w photos. 17 illus. Index.
Features
About Abernethy's Corners of Texas
Corners of Texas is now available as a free e-book at the UNT Digital Library and The Portal to Texas History.
"History and folklore are combined in this volume, beginning with profiles of the Southwestern Writers Collection, ballad hunter John Lomax, J. Frank Dobie and Carl Hertzog. Then come essays on everything from Western women and guns to Texas drought humor… The great thing about folklore is it's got something for everybody and so does this nicely designed and illustrated book." —San Antonio Express-News
"This year's Folklore Society offering… is hard to put down… full of fascinating material." —Mike Cox, Austin American-Statesman
"Holland's lead essay sets the tone and theme for an array of literary endeavors and yarn spinning that seems as large and varied as Texas itself." —Books of the Southwest
"A delightful, readable volume that makes you want to crank up the car and start visiting unusual people and places on your own." —East Texas Historical Association
The title was taken from J. Frank Dobie and Dick Holland, who tell about library corners that contain writings that are forever Texas. Holland's essay, "A Corner Forever Texas: The Southwestern Writers Collection," is the leading essay in the book.
Corners of Texas begins with a special section about the history of the Society itself and its "sainted elders." It is a traditional TFS miscellany, the best of the Society's papers over the past three years—from lynchings to el pato boat building; from sunbonnets to hammered dulcimers; from jokes about droughts and lawyers to tales of folk, gospel and blues music; from gravemarkers to bottle trees, and more.
About the Editor
FRANCIS EDWARD ABERNETHY was Regents Professor Emeritus of English at Stephen F. Austin State University, the executive secretary and editor of the Texas Folklore Society, the curator of exhibits for the East Texas Historical Association, and a member of the Texas Institute of Letters. In addition to editing twenty-one Texas Folklore Society publications, he wrote Singin' Texas, Legends of Texas' Heroic Age, and all three volumes of the Texas Folklore Society history, published by the University of North Texas Press.