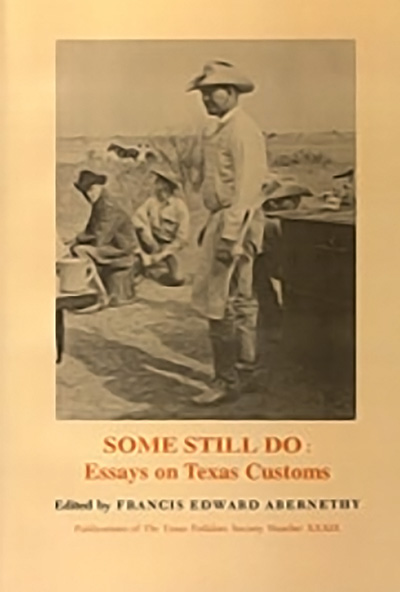 Some Still Do: Essays on Texas Customs
About Abernethy's Some Still Do
Some Still Do: Essays on Texas Customs is now available as a free e-book at the UNT Digital Library and The Portal to Texas History.
Some people are still working stock, building chimneys, making syrup, curing warts, and witching water the same way their fathers and grandfathers did a hundred years ago. This Publication of the Texas Folklore Society is a collection of essays on some of the olds ways—the customs—still practiced in Texas. It is not an exercise in nostalgia, but a look at practical ways of dealing with problems of survival and coping with nature and people.
About the Editor
FRANCIS EDWARD ABERNETHY was Regents Professor Emeritus of English at Stephen F. Austin State University, the executive secretary and editor of the Texas Folklore Society, the curator of exhibits for the East Texas Historical Association, and a member of the Texas Institute of Letters. In addition to editing twenty-one Texas Folklore Society publications, he wrote Singin' Texas, Legends of Texas' Heroic Age, and all three volumes of the Texas Folklore Society history, published by the University of North Texas Press.