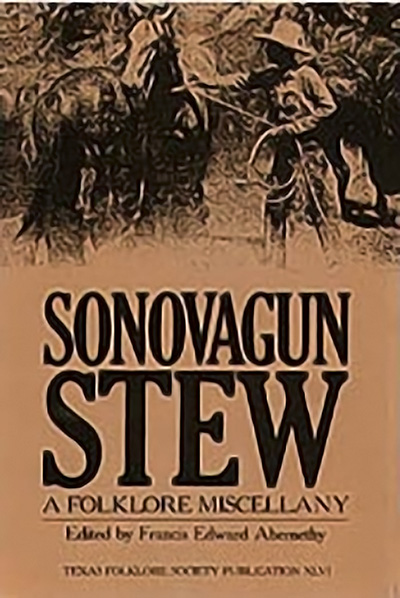 Sonovagun Stew: A Folklore Miscellany
Contributors: Contributors to this volume include John Graves, Charles Townsend, Elton Miles, Lawrence Clayton, James Ward Lee, Paul Patterson, Al Lowman, Don Swadley
35 b&w photos. 21 illus.
Features
About Abernethy's Sonovagun Stew
Sonovagun Stew: A Folklore Miscellany is now available as a free e-book at the UNT Digital Library and The Portal to Texas History.
Folklorists look at the music of Bob Wills, "The Cowboys' Christmas Ball," Corridos of the Big Bend, cowboy and gaucho songs, "churching," Aggie war stories, curative waters, how to make a planked pirogue, among other topics.
About the Editor
FRANCIS EDWARD ABERNETHY was Regents Professor Emeritus of English at Stephen F. Austin State University, the executive secretary and editor of the Texas Folklore Society, the curator of exhibits for the East Texas Historical Association, and a member of the Texas Institute of Letters. In addition to editing twenty-one Texas Folklore Society publications, he wrote Singin' Texas, Legends of Texas' Heroic Age, and all three volumes of the Texas Folklore Society history, published by the University of North Texas Press.