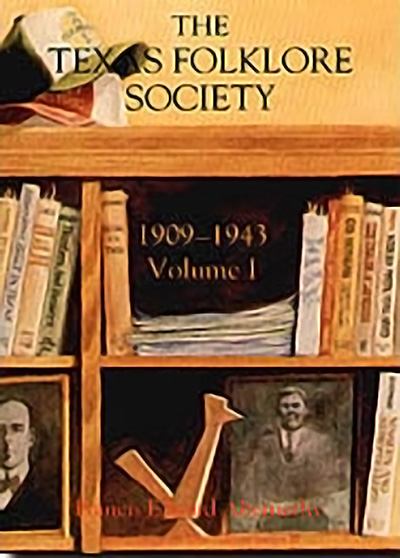 The Texas Folklore Society, 1909-1943: Volume I
Contributors: Illustrated by Charles Shaw
San Antonio Conservation Society Award, 1993
60 b&w photos. Index. Bib. Illus.
Features
About Abernethy's The Texas Folklore Society, 1909-1943
The Texas Folklore Society, 1909-1943: Volume I is now available as a free e-book at the UNT Digital Library and The Portal to Texas History.
The Society had its beginnings at the A&M-Texas football game in 1909. John Avery Lomax, a forty-two-year-old A&M English teacher from Harvard and Leonidas Warren Payne, a thirty-six year old UT English professor and linguist, met to discuss establishing a folklore society, as had been suggested by George Lyman Kittredge of Harvard. The announced purpose of the society was to collect and make known to the public songs and ballads; superstitions, signs and omens, cures and peculiar customs; legends; dialects; games, plays and dances; riddles and proverbs.
Volume I of this history chronicles the collecting and publishing from 1909 to 1943.
"Abernethy's love of the Texas Folklore Society (TFS) is eloquently exhibited by this fascinating and erudite description of the first 35 years of the TFS. If you like to read about Texas, or folklore, or if you just like to read masterful presentations of the English language, buy this book and treat yourself to a good read." —Southwestern American Literature
"This is the only organization that you join and attend because you want to. You expect no professional advancements from it; you have no political axe to grind. You are not pressured to become a member or to read a paper… That is the very nature of the Society… one that distinguishes it from any other." —J. Frank Dobie, ca. 1925, Editor 1923-1943
"Core members of the Society are a motley group… bound together by an umbilicus that ties them all to the same mother soil… and to that land's primal culture, its folklore. Their roots run deep into this Texas earth, and they are folklorists by birth and their land's bond, rather than by academic credentials. They are also romantic and sentimental and they adjourn their annual meetings with parting's sorrow and sometimes tears." —F. E. Abernethy, 1982, Editor 1971 to present
"The most valuable publication for Texas as the century ends… Those early Texas folklorists were a brawling, adventuresome, experimenting group—the book… is a living, breathing record of what has gone before, and it will be a guiding light and inspiration for the many who come after." —The Daily Sentinel
"Abernethy's graceful prose… tells an informal history of the state, touching on matters both social and political." —News & Globe-Times
About the Author
FRANCIS EDWARD ABERNETHY was Regents Professor Emeritus of English at Stephen F. Austin State University, the executive secretary and editor of the Texas Folklore Society, the curator of exhibits for the East Texas Historical Association, and a member of the Texas Institute of Letters. In addition to editing twenty-one Texas Folklore Society publications, he wrote Singin' Texas, Legends of Texas' Heroic Age, and all three volumes of the Texas Folklore Society history, published by the University of North Texas Press.