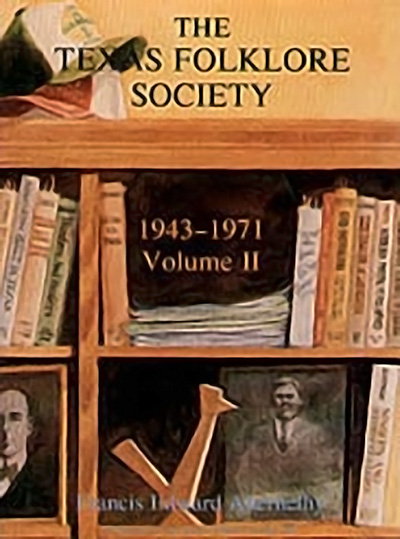 The Texas Folklore Society, 1943-1971: Volume II
Contributors: Illustrated by Charles Shaw
60 b&w photos. Bib. Index.
Features
About Abernethy's The Texas Folklore Society, 1943-1971
The Texas Folklore Society, 1943-1971: Volume II is now available as a free e-book at the UNT Digital Library and The Portal to Texas History.
"Abernethy has woven the history of the Society with a history of the times, placing significant events in the Society's story in the broader context of what was going on in Texas and the nation at the time." —Austin American-Statesman
"…provides folklorists with the kind of pleasure that comes from browsing through the family scrapbooks." —Books of the Southwest
"Can beer be bought in College Station or is this a silly question? In the interest of art and science I will run a few cases through the blockade if need be. Is there any place where a hootenanny could be arranged thereabouts and a little mead quaffed among friends without any professional careers being cast in the balance?" –—Hermes Nye, in a letter to John Q. Anderson, president for the 1956 TFS meeting
The second volume to the Texas Folklore Society history covers from the McCarthy era to the end of the wild and woolly sixties. Includes the publishing history of the TFS books, anecdotes about the gatherings of the Society (including Hermes Nye starting the tradition of the hootenanny at Texas Folklore Society meetings in 1956), and the emphasis on singing beginning at Society gatherings.
The Texas Folklore Society was thirty-five years old in 1944, having come into existence under the hands of John Avery Lomax and Leonidas Warren Payne in 1909. J. Frank Dobie held the reins of the Society from 1922 to 1943, when he turned the direction to Mody Coggin Boatright. Allen Maxwell and Wilson Hudson followed as editors of Society publications.
These were the years when the the Society lost J. Frank Dobie and Leonidas Payne, but it gained such notables as F. E. Abernethy, Jim Byrd, Ed Gaston, William Owens, Américo Paredes, Mabel Major, LaVerne Harrell, Elithe Hamilton Kirkland, John Q. Anderson, George Hendricks, Martin Shockley, James Ward Lee, Faye Leeper, Ruth Dodson.
About the Author
FRANCIS EDWARD ABERNETHY was Regents Professor Emeritus of English at Stephen F. Austin State University, the executive secretary and editor of the Texas Folklore Society, the curator of exhibits for the East Texas Historical Association, and a member of the Texas Institute of Letters. In addition to editing twenty-one Texas Folklore Society publications, he wrote Singin' Texas, Legends of Texas' Heroic Age, and all three volumes of the Texas Folklore Society history, published by the University of North Texas Press.