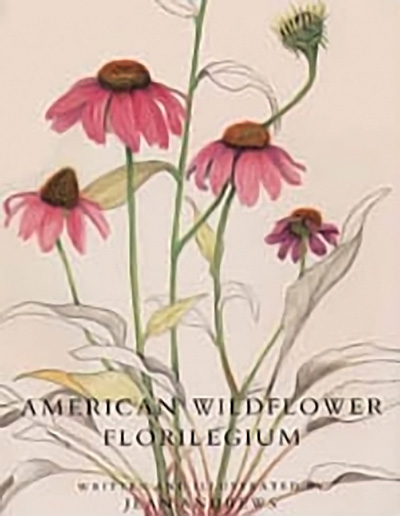 American Wildflower Florilegium
Outstanding Academic Book List for Book-of-the-Month Club Dividend Selection, 1994
About Andrews's American Wildflower Florilegium
"My plant paintings are composites through time which present the generalized growth pattern of the plant, not only with the buds, the mature flower in various aspects—front, side, back—on to the seed pods but also the roots. This is a view of a plant impossible to capture with the camera." —Jean Andrews
Jean Andrews—a true Renaissance Woman: author, lecturer, artist, naturalist and gourmet cook—has gathered fifty-two strikingly beautiful American wildflowers which she has paired with a treatise giving the common name, the scientific name, family, origin, range, description, bloom period, pollinators, habitat requirements, propagation, remarks & etymology, and references. She presents a true wildflower florilegium—a gathering of flowers; a treatise on flowers—for our enjoyment.
Illustrated and written with the cooperation of the National Wildflower Research Center and the Department of Botany at the University of Texas at Austin, the Florilegium also has observations by E. Arthur Bell, immediate past Director of the Royal Botanical Gardens at Kew, England and Ghillean T. Prance, current Director of the Royal Botanical Gardens at Kew.
"It is a publication of such high quality that it should serve as an impressive gift for anyone interested in knowing more about American wildflowers. The publisher, too, deserves praise for making such a delightful product available to the public." —Science Books and Films
"Andrews' botanical art and accurate, informative text combine aesthetics and science to produce a gathering of flowers that will appeal to a wide circle of readers in the diverse flora of the US, both native and introduced, that can be viewed easily along the highways." —Choice
Signed limited editions available for $200 with 2 signed color prints (ISBN-13 978-0-929398-45-7).
About the Author
Known internationally as the "Pepper Lady" since the publication of her book Peppers: The Domesticated Capsicums, JEAN ANDREWS was a distinguished alumna from the University of North Texas, where she received her Ph.D., and from the University of Texas at Austin where she received a B.S. and was also named to the Hall of Honor of the College of Natural Sciences. Named to Who's Who in Food and Wine in Texas, Andrews was the author and illustrator of thirteen books, as well as numerous articles on peppers, wildflowers and shells.