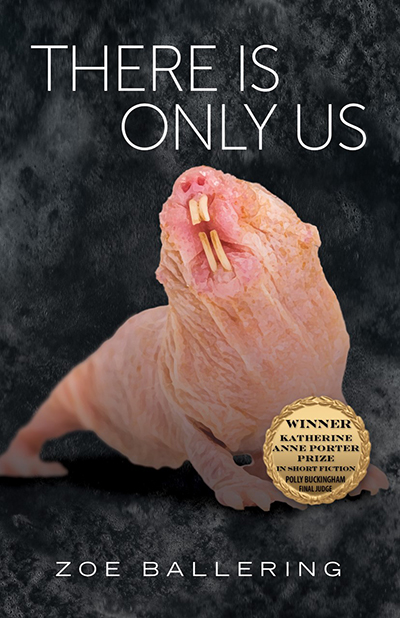 There Is Only Us
Katherine Anne Porter Prize in Short Fiction 2022
About Ballering's There Is Only Us
The eight stories of speculative fiction in There Is Only Us explore themes of loneliness, connectedness, and selfhood. Each one is an act of intimacy—an altered world shown through the lens of a close relationship. Brothers, sisters, lovers, mothers, and daughters come together in myriad constellations, often so that one character can make a body-altering choice of extreme proportions. In a variety of forms—from a satirical retelling of Noah's Ark to a sister drama revolving around naked mole rats—There Is Only Us presents a series of escalating scenarios, intimate and yet absurd, that ask, how much can you change and still be you?
Ballering's stories bring to speculative fiction a new lightness and absurdity and a commitment to contemporary experiences of loneliness, especially among Millennials: loneliness during the COVID-19 pandemic, ecological loneliness (the sense that, by the end of our lives, the earth will be barren), and the unsolvable loneliness that so many experience despite carrying around a tiny device that claims it can connect them to any human anywhere on earth.
About the Author
Zoe Ballering's short fiction has appeared in Craft, Electric Lit, and Hobart, and her story "Double or Nothing" won the 2021 Rougarou Fabulism and Speculative Fiction Contest. Her writing is informed by her experiences working in many different worlds: as program manager for a historic tall ship, receptionist at a garbage dump, olive oil saleswoman, teacher, radio copywriter, and currently as communications coordinator for the Reed College Office of Admission. She lives in Portland, Oregon.