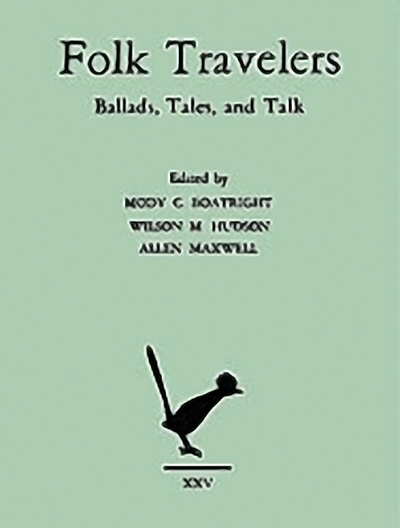 Folk Travelers: Ballads, Tales, and Talk
About Boatright et al.'s Folk Travelers
Folk Travelers: Ballads, Tales and Talk is now available as a free e-book at the UNT Digital Library and The Portal to Texas History.
The title comes from J. Frank Dobie's essay on "The Traveling Anecdote." Also included are Roy Bedichek on "Folklore in Natural History"; "The Names of Western Wild Animals," George D. Hendricks; "Bonny Barbara Allen," Joseph W. Hendren; "Aunt Cordie's Ax and Other Motifs in Oil," Mody C. Boatright; "The Western Ballad and the Russian Ballada," Robert C. Stephenson; "The Love Tragedy in Texas-Mexican Balladry," Americo Paredes; "Emerson and the Language of the Folk," John Q. Anderson; "Tales of Neiman-Marcus," James Howard; "The Devil in the Big Bend," Elton Miles, and others.
About the Editor
From 1951 to 1971 WILSON HUDSON edited or assisted in editing the Texas Folklore Society publications and was secretary/editor from 1964 to 1971. He taught at the University of Texas at Austin.