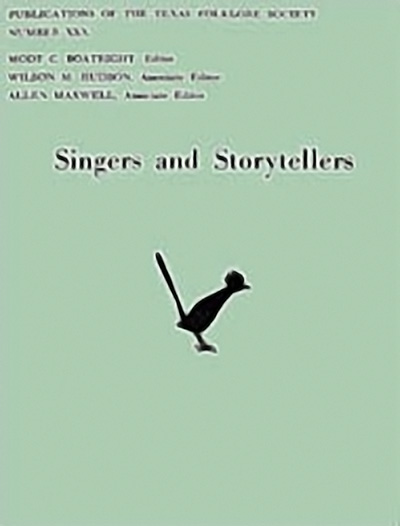 About Boatright et al.'s Singers and Storytellers
Singers and Storytellers is now available as a free e-book at the UNT Digital Library and The Portal to Texas History.
J. Frank Dobie leads off with "Storytellers I have known," followed by Mac Edward Leach's "The Singer or the Song." Americo Paredes offers a translation of Vicente T. Mendoza's "Some Forms of the Mexican Cancion and "Folklore and History." In addition, essays on oil promoters, the folksay of lawyers, old Thurber, ghost stories, prayer meetings, Belle Starr, removing warts, the German-Wends in Texas, and other folklore from around the state.
About the Editor
From 1951 to 1971 WILSON HUDSON edited or assisted in editing the Texas Folklore Society publications and was secretary/editor from 1964 to 1971. He taught at the University of Texas at Austin.