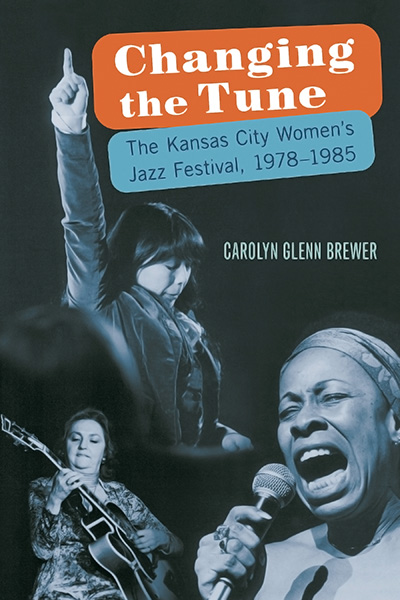 Changing the Tune: The Kansas City Women's Jazz Festival, 1978-1985
40 b&w photos. Notes. Bib. Index.
Features
About Brewer's Changing the Tune
Even though the potential passage of the Equal Rights Amendment had cracked glass ceilings across the country, in 1978 jazz remained a boys' club. Two Kansas City women, Carol Comer and Dianne Gregg, challenged that inequitable standard. With the support of jazz luminaries Marian McPartland and Leonard Feather, inaugural performances by Betty Carter, Mary Lou Williams, an unprecedented All-Star band of women, Toshiko Akiyoshi's band, plus dozens of Kansas City musicians and volunteers, a casual conversation between two friends evolved into the annual Kansas City Women's Jazz Festival (WJF).
But with success came controversy. Anxious to satisfy fans of all jazz styles, WJF alienated some purists. The inclusion of male sidemen brought on protests. The egos of established, seasoned players unexpectedly clashed with those of newcomers. Undaunted, Comer, Gregg, and WJF's ensemble of supporters continued the cause for eight years. They fought for equality not with speeches but with swing, without protest signs but with bebop.
For the first book about this groundbreaking festival, Carolyn Glenn Brewer interviewed dozens of people and dove deeply into the archives. This book is an important testament to the ability of two friends to emphatically prove jazz genderless, thereby changing the course of jazz history.
"In Carolyn Glenn Brewer's book, Changing the Tune, we get to experience a well-documented account about the many notable women who lent their voices to the world of jazz. Thank you for helping to erase the stigma women musicians experience by exposing this inspiring organization and its contributions to women in music." —Ellen Johnson, vocalist, producer and author of Jazz Child: A Portrait of Sheila Jordan
Photos on the cover are of Mary Osborne, photograph by Paul Smith; Betty Carter, photograph by Bob Barrett; and Toshiko Akiyoshi, photograph by Bob Barrett. Used by permission.
About the Author
CAROLYN GLENN BREWER is a longtime music educator who has written for Jam Magazine and published two books on the 1957 tornado in Ruskin Heights, Missouri. She has played clarinet in bands, chamber groups, and orchestras throughout the Kansas City area. She lives in Kansas City.