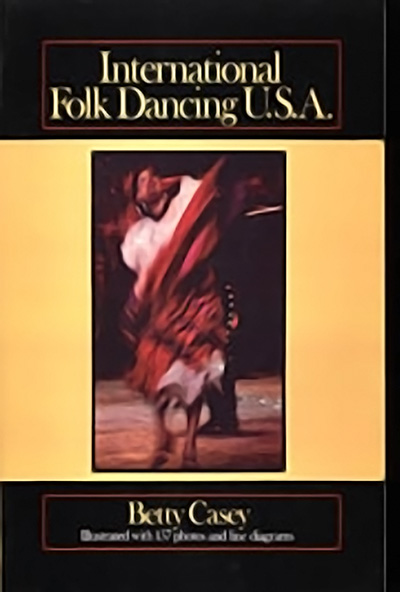 International Folk Dancing U.S.A.
About Casey's International Folk Dancing U.S.A.
This is an extensive work on international folk dancing as practiced in the United States. It is a must for folk dance enthusiasts—novice to expert. Never before has such a wide variety of entries on this popular, multi-faceted social phenomenon been brought together. It tells how to do the hopak, czardas and the bamboo pole dance; plan an international folk dance program; do the little finger hold and the hambo swing. International Folk Dancing U.S.A. presents historical vignettes on pioneer folk dance leaders; instructions for 180 dances from 30 countries; contributions from 60 folk dance authorities; easy-to-follow dance step descriptions; a Glossary of folk dance terms; many helpful illustrations.
"A tremendous achievement," writes Miriam Gray in her Foreword, "a resource book par excellence, an encyclopedic treasure trove of folk dance information from the people and the countries who have done the most to influence the growth of international folk dancing in the United States… More than sixty authors, teachers, leaders, and folk dancers have contributed their thoughts, their knowledge, and their unique historical perspective…
"Leaders—whether you are associated with local folk dance clubs, large urban community center, or recreation departments—this book is for you! Authors, dance students, international folk dancers, researchers, teachers (amateur and professional)—in fact, anyone who likes to dance or to read about dance—this book is for you, too! Every library, personal and public, should own a copy.
"You may never need to buy another folk dance book."
Printed on demand.
About the Author
BETTY CASEY, formerly a ballroom dancing instructor, saw her first square dancing at the Cowboys' Christmas Ball in Anson, Texas. She got the bug while researching the dance so her Girl Scout troop could earn a folk dance badge.
Among the first women callers in Texas, she studied under Dr. Lloyd Pappy Shaw and Francisca Aquino and introduced square dancing to Marshall Flippo, America's foremost national caller. Hundreds of students of all ages attended her school in Abilene, Texas. She taught square dancing and studied foreign folk dancing in Asia, Europe, and Africa. She participated in folk dance cultural programs from Tangier to Hong Kong and from Manila to Munich for the U.S.O., Military Special Services, North Atlantic Girl Scout Council, Brussels World Fair, embassies and consulates, U. S. Information Services, television and movies.
Betty called for square dancing at the Brussels World's Fair and the 2nd Asian Games, and her dancers appeared on TV programs and in movies.