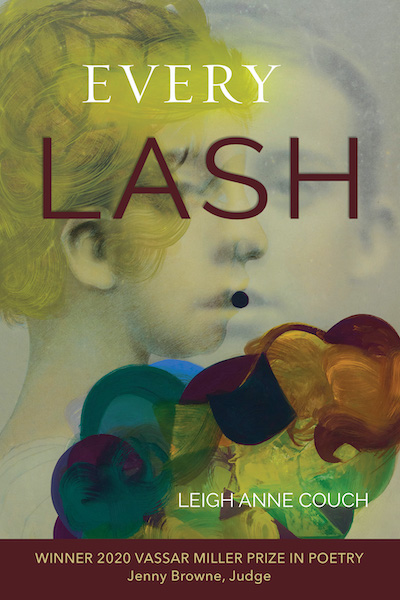 Every Lash
Winner of the Vassar Miller Prize in Poetry, 2020
About Couch's Every Lash
This collection's title-as in tether, strike, eyelash, welt-is a nod to the fluidity of language and the foolish penchant we have for naming things, including ourselves. The poems refuse to navigate, choosing instead to face head-on the snares of gender, patriarchy, and parenting. In the closing environmental poems of farewell, the speaker regains communion with nature through the aging body.
"Poem by poem, line by line, and word by word, Every Lash sings of our complex human entanglements with places, the past and all the other creatures we meet on the road. Earthy and soulful, funny and fierce, I needed these poems. We all do." –Jenny Browne, Texas Poet Laureate, author of Dear Stranger and judge.
from "Like a Grassfire"
Nebraska's grasslands on fire like obedient children,
and I watch from the highway lullabyed in the murmuring
burn: a barely detectable tremor in the shoulder,
the winds finally bored were still. Not so bad,
not like California. There were trees yet.\
About the Author
LEIGH ANN COUCH's Houses Fly Away was published by Zone 3 Press in 2007. Her poems have been published in magazines including PANK, Pleiades, Gulf Coast, Subtropic, Smartish Pace, and Cincinnati Review, and featured in Verse Daily and the collection The Echoing Green (Penguin). She lives in Sewanee, Tennessee, with writer Kevin Wilson and their sons.