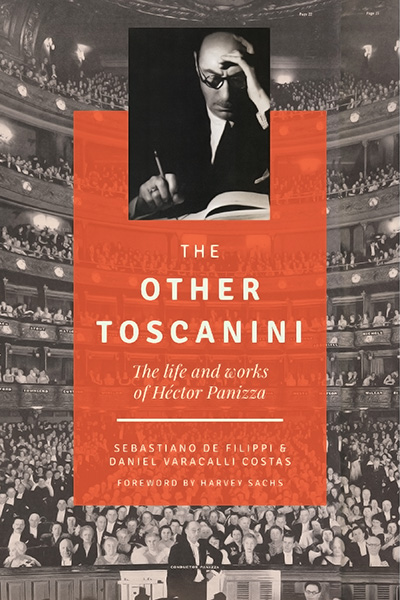 The Other Toscanini: The Life and Works of Héctor Panizza
Contributors: Foreword by Harvey Sachs
September, 2019
Published
28 b&w illus. Notes. Bib. Index.
Features
About De Filippi and Costas's The Other Toscanini
The Other Toscanini is the only book in English about the Argentine conductor and composer Héctor Panizza (1875-1967). Known all over the world by his Italian name —Ettore— the maestro was in fact born in Buenos Aires and developed an astonishing international career, becoming music director of, successively, Covent Garden, la Scala (where he conducted alongside Arturo Toscanini), Teatro Colón, and the New York Metropolitan Opera. At the Met between 1934 and 1942, he was in charge of the Italian repertoire and started the first radio broadcasts, whose recordings are his most well-known. He conducted widely in Europe and the Americas and devoted part of his energies to composing, recording, and organizing musical institutions. Now virtually forgotten, Panizza's name is being revived in this definitive biography, which describes both his life and his legacy, strongly associated with that of the great Arturo Toscanini.
The book also describes Panizza's important accomplishments as a composer. In his native Argentina, he is known for the patriotic "Canción de la Bandera," based on a text by Luigi Illica, Puccini's librettist. But Panizza also wrote operas, orchestral works, chamber music, and songs, widely performed in their day and still worthy of frequent revivals.
"As the biographer of Arturo Toscanini, whom Panizza esteemed and who, in turn, honored Panizza with his trust and confidence, I have learned much from this book, which makes an important contribution to the history of twentieth-century music in Argentina and beyond." —from the foreword by Harvey Sachs, author of Toscanini: Musician of Conscience
About the Authors
SEBASTIANO DE FILIPPI is currently Music Director of the National Congress Chamber Orchestra in Buenos Aires. He is the author of four books.
More from Sebastiano De Filippi
DANIEL VARACALLI COSTAS has worked as a journalist and music critic. At Teatro Colón he was the Head of Publications and is currently Lecturer on Music History. The author of four books, he is a frequent collaborator in magazines and programs. Both authors live in Buenos Aires.