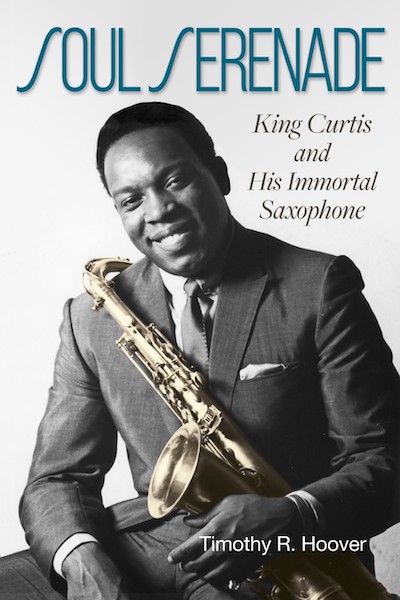 Soul Serenade: King Curtis and His Immortal Saxophone
36 b&w photos. Notes. Bib. Index.
Features
About Hoover's Soul Serenade
Listen to a conversation between Timothy Hoover and Chuck Berry: An American Life author RJ Smith.
Although in 2000 he became the first sideman inducted into the Rock & Roll Hall of Fame, "King Curtis" Ousley never lived to accept his award. Tragically, he was murdered outside his New York City home in 1971. At that moment, thirty-seven-year-old King Curtis was widely regarded as the greatest R & B saxophone player of all time. He also may have been the most prolific, having recorded with well over two hundred artists during an eighteen-year span.
Soul Serenade is the definitive biography of one of the most influential musicians of the 50s, 60s, and early 70s. Timothy R. Hoover chronicles King Curtis's meteoric rise from a humble Texas farm to the recording studios of Memphis, Muscle Shoals, and New York City as well as to some of the world's greatest music stages, including the Apollo Theatre, Fillmore West, and Montreux Jazz Festival. Curtis's "chicken-scratch" solos on the Coasters' Yakety Yak changed the role of the saxophone in rock & roll forever. His band opened for the Beatles at their famous Shea Stadium concert in 1965. He also backed his "little sister" and close friend Aretha Franklin on nearly all of her tours and Atlantic Records productions from 1967 until his death.
Soul Serenade is the result of more than twenty years of interviews and research. It is the most comprehensive exploration of Curtis's complex personality: his contagious sense of humor and endearing southern elegance as well as his love for gambling and his sometimes aggressive temperament. Hoover explores Curtis's vibrant relationships and music-making with the likes of Buddy Holly, Sam Cooke, Isaac Hayes, Jimi Hendrix, Aretha Franklin, Otis Redding, Sam Moore, Donny Hathaway, and Duane Allman, among many others.
About the Author
TIMOTHY R. HOOVER is an avid music lover who has spent more than twenty years researching and writing about the life of King Curtis. A freelance writer for Hittin' the Note magazine, he lives outside Wheatland, Wyoming, with his wife.