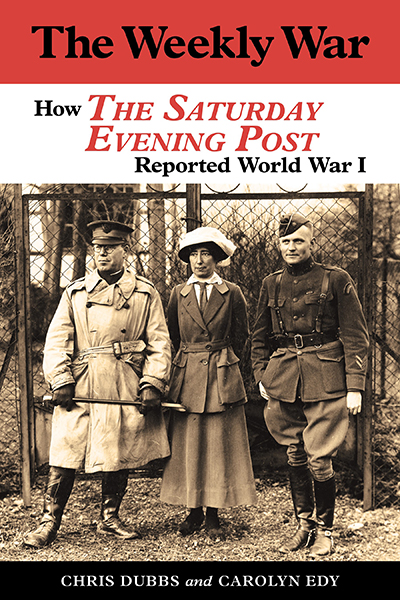 The Weekly War: How the Saturday Evening Post Reported World War I
32 b&w illus. Notes. Bib. Index.
Features
About Dubbs and Edy's The Weekly War
An elite team of reporters brought the Great War home each week to ten million readers of The Saturday Evening Post. As America's largest circulation magazine, the Post hired the nation's best-known and best-paid writers to cover World War I. The Weekly War provides a history of the unique record Post storytellers created of World War I, the distinct imprint the Post made on the field of war reporting, and the ways in which Americans witnessed their first world war. The Weekly War includes representative articles from across the span of the conflict, and Chris Dubbs and Carolyn Edy complement these works with essays about the history and significance of the magazine, the war, and the writers.
By the start of the Great War, The Saturday Evening Post had become the most successful and influential magazine in the United States, a source of entertainment, instruction, and news, as well as a shared experience. World War I served as a four-year experiment in how to report a modern war. The news-gathering strategies and news-controlling practices developed in this war were largely duplicated in World War II and later wars. Over the course of some thousand articles by some of the most prolific writers of the era, The Saturday Evening Post played an important role in the evolution of war reporting during World War I.
About the Editor
CHRIS DUBBS is the author of An Unladylike Profession: American Women War Correspondents in World War I and American Journalists in the Great War, as well as co-editor of The AEF in Print: An Anthology of American Journalism in World War I (UNT Press). He lives in Edinboro, Pennsylvania.
CAROLYN EDY is the author of The Woman Correspondent, the U.S. Military, and the Press, 1846–1947, which was a finalist for the American Journalism Historians Association's Best Journalism History Book award in 2018. She lives in Boone, North Carolina, where she is an associate professor of journalism at Appalachian State University.