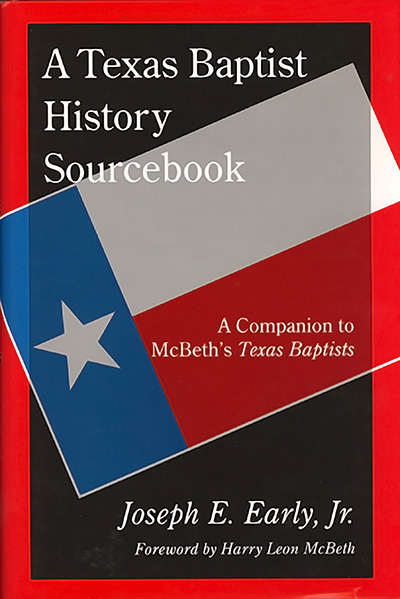 A Texas Baptist History Sourcebook: A Companion to McBeth's Texas Baptists
Contributors: Foreword by Harry Leon McBeth
About Early's A Texas Baptist History Sourcebook
From the days of Z. N. Morrell and James Huckins to Bill Pinson and Charles Wade, Baptists have played and continue to play an important role in the religious, secular, and political life of Texas. Over the previous one hundred and fifty years several Texas Baptist histories have been written, but not until now have the documents used in the development of these texts been made available in one resource.
In A Texas Baptist History Sourcebook, Joseph E. Early, Jr., has provided the most complete collection of Texas Baptist sources ever issued in one volume. This work consists of church minutes, state and association convention records, denominational newspaper articles, records of Baptist universities, and myriads of other resources. Included in this work are George Washington Truett's sermon Baptists and Religious Liberty delivered on the steps of the Capitol building in Washington, D.C., James Milton Carroll's Trail of Blood, J. Frank Norris' railings against the Baptist General Convention of Texas, and countless other sources depicting the many years of Texas Baptist history.
This book is designed as a complementary work to Harry Leon McBeth's Texas Baptists: A Sesquicentennial History. Students can follow McBeth's chapter divisions, headings, and subheadings for greater ease in studying the documents. Whether used independently or as a companion to McBeth's work, A Texas Baptist History Sourcebook is a must for an in-depth study of Baptists in Texas.
"Dr. Early is remarkably evenhanded in his selection of sources to include. Any student of Baptist history will find this a fascinating and utterly indispensable source of information for anything relating to Baptists in the state." —From the Foreword by Harry Leon McBeth
"This is a definitive collection of primary sources in Texas Baptist history and of great significance as a complementary volume to Leon McBeth's classic work, Texas Baptists. I can see both of these volumes being required in courses for seminary and graduate students. Recognizing the limitations of space, Early has done a remarkable job for the amount of material that is included." —M. Vernon Davis, Dean of the Logsdon School of Theology, Hardin-Simmons University
About the Author
HARRY LEON MCBETH, who wrote the foreword, is Distinguished Professor of Baptist History at Southwestern Baptist Theological Seminary.