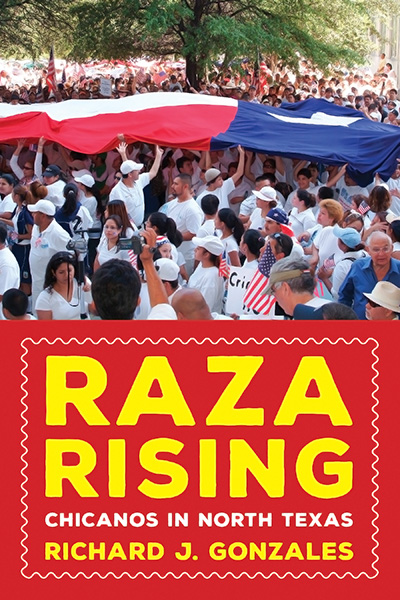 Raza Rising: Chicanos in North Texas
34 b&w photos. Notes. Bib. Index.
Features
About Gonzales's Raza Rising
Based on articles written for the Fort Worth Star-Telegram, author Richard J. Gonzales draws on his educational, inner-city and professional life experiences to weave eyewitness testimony into issues facing Chicanos, including economic, health, education, criminal justice, politics, immigration, and cultural issues. Raza Rising offers first-hand observations, supported by well-documented scholarly research, of Chicanos' growth and subsequent struggles to participate fully in North Texas' political and economic life.
Raza Rising takes the reader to the organization of an immigration reform march, to the actual march with 20,000 people, to a protest demonstration of the City of Farmers Branch's attempt to prohibit renting to the undocumented immigrant, to the author's awakening in Chicago on the importance of learning, and to his poignant experience as a guest speaker in a Fort Worth public school classroom.
About the Author
RICHARD J. GONZALES wrote for six years about Chicanos as a Fort Worth Star-Telegram weekly guest columnist. He has published short stories in The Americas Review, a Hispanic literary journal of the University of Houston, and has worked in, observed, and researched the Chicano community from the 1970s to the present.